An Encouraging Note…
December 6, 2011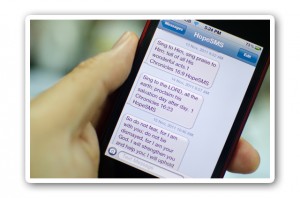 We received a note recently from one of our HopeSMS subscribers. It was a very encouraging note, because often, the SMS just goes out day after day…and at times, we are not sure whether anybody even reads them.
However, God works in marvelous ways! This subscriber not only read the SMS, but was inspired to compose a song based on the verses she received! Here's an excerpt of the letter…
I thank God for your service to the Lord through the HopeSMS ministry!

Last Sunday, the verse that I received was 1 Chronicles 16:9, ?Sing to him, sing praise to him; tell of all his wonderful acts.?

The next morning, I woke up with a tune which kept playing in my mind. I'm not a professional songwriter and have only attempted writing a few songs. I asked God if he wanted me to write a new song, and if he did, I prayed for his help as I had no lyrics.

When I was playing the tune on my keyboard and praying for the words, I received the verse of the day from HopeSMS. The verse was 1 Chronicles 16:23, ?Sing to the LORD, all the earth; proclaim his salvation day after day.?

I really like this verse, so I decided to try it out with the tune?and it fit! The verse from the previous day also went well. Within a few hours, I managed to write a new song with the verses from 1 Chronicles 16 that I received from HopeSMS.

Song writing is very difficult for me as I have no professional training. Usually, it will take me days or even months to complete a song. Thanks to God, I managed to do it within a short period this time around, and I was quite amazed!

I have posted the Mandarin and English versions of the song on YouTube. Hope you like it!

Thanks again, and may God bless all of you serving in TWR!
Do you subscribe to HopeSMS? If you do, we would love to hear from you too!