Frances Lok | Dedicated to Serving
June 11, 2011
Frances Lok of TWR's Chinese Internet ministry shares with us her passion in serving with TWR, and God's blessings in her life.

What do you do in TWR? How long have you been serving in TWR?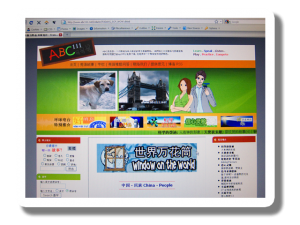 I have had a burden for missions ever since I graduated from university. I got to know about TWR's Chinese Internet Ministry after listening to its programs in 2003.
Since January last year, I have served in this ministry as a content development officer. My primary role is to develop learning materials in the English language for our website which reaches out to the students.
I am also involved in recruiting volunteers to help develop quality program content in both English and Mandarin. We need people with a heart to serve to contribute their experience and skill!
How has the ministry grown since it first begun?
When TWR's Chinese Internet Ministry began in the late 1990s, there were only a few programs available online. But the demand for Christian media in China was enormous, and our ministry grew accordingly.
Currently, TWR's Chinese Internet Ministry operates four websites:
ktwr.net, primarily our webcast site;
abc111.net, an English as a Second Language outreach website;
qq232.net, a counseling information website; and
SOTA online, Seminary on the Air – a three-year online seminary course for Chinese church leaders and pastors.
In 2010, visitors viewed our websites about 1.66 million times and our audio files were accessed 4.2 million times. One of our challenges stems from our high volume of web traffic. During peak times we have to redirect traffic to different servers to manage our bandwidth usage, so that users will be able to download our programs.
This year, our focus is to expand our webcast outlets to the mobile phone platforms in order to reach out to Chinese young adults. Towards this goal, God has blessed the ministry by bringing several teams of talented, young and dedicated partners to partner with us, enabling us to further extend our ministry to this growing smartphone audience in China.
From June this year, our first iPhone app will be made available. You will be able to find it by doing a search for "TWR Chinese Internet Ministry" under the App Store for the pilot version of "ktwr.net Online".
What is the general response from the listeners toward your ministry and its programs?
The Chinese Internet Ministry team tries our best to come up with programs that meet our audience's needs. We strive very hard to personalise the sharing of the gospel, just like a believer would share the good news with a friend.
Our greatest fulfilment comes from when we receive responses from our listeners. Even though some have never been to churches, they are open to listen and learn more about Jesus through our programs online – they find our programs to be easily accessible. Many listeners have also expressed their gratitude for we have made available: not only our programs, but also the useful materials pertaining to counselling and the learning of the English language.
One listener wrote in to share how God opened her eyes to see the truth of God's kingdom just by listening to online programs. She faced a lot of struggles as a young believer, but God nurtured and guided her. She went on to enroll as a student in Seminary on the Air course and found the Homiletics module (on how to preach) a great help in her spiritual growth. Her life-changing story is one of many that testify of God's blessing in using our ministry to draw people to Himself.
What are some challenges you face in your work and how do you overcome them?
Our largest challenge lies in producing relevant content that speaks to and meets the needs of today's Chinese young adults. To do this, carry out extensive research to find out trends and popular topics that impact their lives. We also try to engage our audience to learn more about their interests, motivations, and concerns.
Are there any precious lessons you gained during your time in the ministry?
I have learned the importance of partnership in this ministry. I am grateful for my team-mates and ministry partners; I appreciate their passion and devotion to serve. We are all different but united in same vision.
How has your service in TWR made a difference in your life?
I have had a breakthrough in my spiritual life: I am learning to rely on God. When we face trials and tribulations – especially in the area of fundraising – God has been faithful in his provision through new partnerships and ministry initiatives!