Susi | Christmas – Javanese style
December 2, 2009
Tell us a bit about yourself.
My name is Susi, and I am from East Java, Indonesia. I am the Project Hannah coordinator for TWR-Indonesia.
I have been a Christian for over 30 years. I became a Christian through my brother. I heard his testimony about Jesus becoming his personal Savior. He told me that he had found his personal savior and asked me to believe in Jesus Christ as my Savior. He read John 14:6 to me. "Jesus answered, 'I am the way and the truth and the life. No one comes to the Father except through me'". It was at that moment that I prayed to Jesus and believed in him as my Savior.
How did you first come to serve in TWR?
I first came to know of TWR in 1988 because my former organization had ministry partnerships with TWR. In 1997, Edmund and Marli Spieker introduced me to Project Hannah's ministry and asked me to help with the Women of Hope programs. I was a volunteer from 1998 to 2003, but became a full-time staff in 2004. I have been serving with TWR-Indonesia as the Project Hannah coordinator since 1998.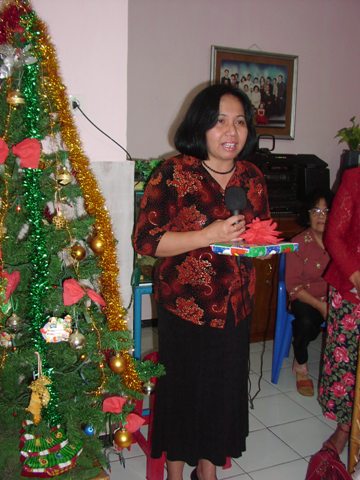 Since your birthday is near Christmas, how do you celebrate?
I never celebrate my birthday as I am Javanese. It is not common for Javanese to celebrate their birthdays. However, this is not so for my husband, so he would usually celebrate my birthday, but only with family. Also, even though my birthday is three days before Christmas, my family does not celebrate it together with Christmas.
What do you like best about Christmas?
The thing I like best about Christmas is having a special moment with my family to give thanks to our Lord Jesus. I also particularly look forward to anything with chocolate in it, such as chocolate ice cream, chocolate candy, chocolate cake, just to name a few!
How have you been blessed through your service in TWR?
Serving with TWR gives me the opportunity to see God's love to the world. It also gives me an opportunity to see the needs of others and to be part of His work in radio ministry. It is a blessing and a privilege to be God's worker.
Do you have any Christmas wishes or blessings for the readers and the rest of the staff?
Christmas is a moment for Christians to not only give thanks to our Savior but to make a commitment to share the love of God more than ever. Christmas is also God's way of showing love, peace, and hope to us. Let us share it with others. I am hoping and praying that God will cause joy and all good things to overflow in all of you!