Clarice Wong | A Ray of Sunshine
February 6, 2010
Not a day goes by without hearing joyful laughter coming from Clarice's corner of the office. The live-wire of the Asia Service Centre, Clarice never fails to cheer up those around her with an encouraging word and a listening ear. We catch up with her, and catch a little ray of sunshine in the process.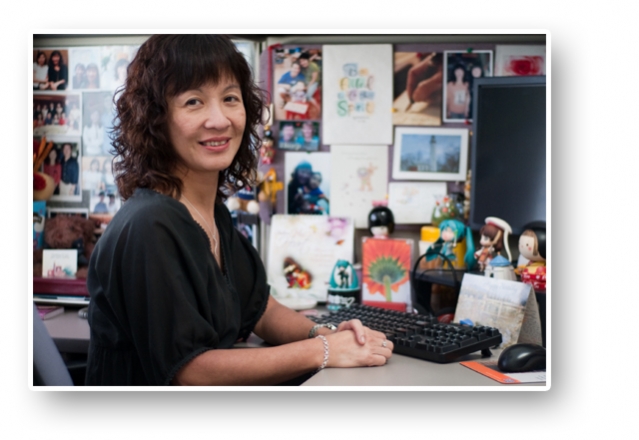 Share with us a bit about yourself.
My name is Clarice Wong, and I was born and bred in Singapore. If you must know my age, I am always 25!
I have been a Christian since I was 14. A secondary school classmate brought me to church. I first joined the youth fellowship to get to know more people my age, and to make friends. Over time, I joined the meetings more regularly, and I eventually accepted the Lord into my life at an evangelistic meeting held in church.
I am serving full-time in TWR-Asia as the personal assistant (PA) to the International Director for Asia. I also support the Asia Management Team with administrative and coordination work. I joined TWR in July 2005 on a part-time basis and started serving full-time after one year.
How did you first come to know about – and serve in – TWR?
I first came to know about TWR about 10 years ago through my husband. He was then volunteering as a consultant when TWR first set up an office in Singapore.
Before I joined TWR, I served part-time for six years in OMF (Overseas Missionary Fellowship) International. When OMF needed to convert the position to a full-time one, I prayed for God to open a door for me as I was then still seeking to only serve part-time due to family commitments. It was then that a friend at TWR contacted me about the part-time PA position that the ID department was looking to recruit. I am thankful to God for His perfect timing in granting me the continued opportunity to serve him.
Since your birthday is near Valentine's Day, how do you celebrate?
Being born one day after Valentine's Day has made celebrating my birthday become more of a focus in my home than Valentine's Day! My family (spouse and 3 grown-up children) would celebrate with me over a nice meal. I also celebrate my birthday separately with my father who is now over 70, and my 3 younger sisters and their families.  In addition, my church cell group will also celebrate my birthday with me!
What was your best birthday/Valentines' Day present then?
The best present I ever got was the surprise dinner that my husband organized, to show his appreciation for me on our 20th anniversary!
What do you like best about Chinese New Year? What is your favorite Chinese New Year food?
That would have to be the reunion dinner that I will have with my extended family (father, sisters, nephews and nieces). My favorite Chinese New Year food would be the juicy pineapple tarts.
How have you been blessed through your service in TWR? Give an example of how you or your ministry has been blessed by God.
I have been truly blessed by the relationships with fellow brothers and sisters in my service in TWR – it has been very enriching!
I am also very encouraged by God's faithful provision to TWR-Asia's ministry despite the economic downturn over the last couple of years. My service in TWR has taught me to treasure good relationships and to experience God's goodness in the fulfillment of serving Him.  I pray that the TWR family will not only be a vessel of love and blessings to those who come to serve in the ministry but that TWR programs and broadcasts will bring God's love and hope to many more lives.
Do you have any Chinese New Year wishes or blessings for our readers and the rest of the staff?
It's a joy to be given this privilege to share my life with the readers and the rest of the TWR staff… with the coming Lunar New Year, I wish all 'Gong Xi Fa Cai' and an abundantly prosperous year that will be filled to the brim with God's blessings!