Jim McIntyre | Faith At 300 Feet
June 8, 2010
Tell us a bit about yourself
My name is Jim McIntyre. After taking several short term mission trips to Africa with Wycliffe Bible Translators, we were led to TWR by good friends.
Realizing my skills were a better fit for serving with TWR, my wife Doris and I joined TWR in February of 1990 and after raising our prayer and financial support, we began our missionary service on the island of Guam at KTWR. I left behind a career of 20 years as a pipe fitter welder, looking forward to using my skills for the Lord.
What do you do on Guam?
One of my main tasks is antenna rigging. It is one of the more challenging tasks at KTWR, especially after a typhoon. When we mention antenna rigging, it refers to lifting the antennas into the air and hanging them from the towers. We have faced severe damage previously in all of the antennas, which needed to be fixed before God's Word could once again go out over the airwaves. God is faithful and we have seen Him work providing the resources needed to get the job done.
What are some of the challenges you face?
Some of the challenges are the physical demands of working out in the hot sun, working at nearly 300 feet in the air, and the mental factor of overcoming the fear. It takes a certain amount of courage to get up there and work. We often say that "courage is fear that has said its prayers". When you are in the air you think of staying there, knowing that gravity works well!
In June of 2009 I faced the greatest challenge of my life. After an 18 year battle with breast cancer my dear wife Doris went home to be with the Lord. Serving God on the mission field was her greatest passion. After spending six months back home with our children and seeking God's direction for my future, I returned to Guam in January of 2010 to resume my duties at KTWR. I have found God's grace sufficient in Good times and bad. He has provided over and above what I could have imagined. My hope is in Him.
What do you do when you are not rigging antennas?
Along with the antenna work there is always plenty to do at the station. I keep busy working in ground and building maintenance, keeping the backup generators going, and doing some of the purchasing of materials to keep us on the air, sending out God's life changing word.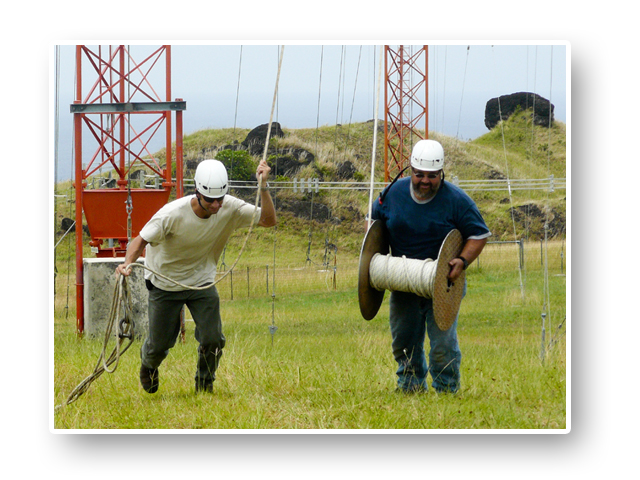 How have you been impacted by God while working in TWR? What are some memorable or inspirational moments you had in your ministry with TWR?
When you use your skills to do work for the Lord it changes you in many ways. Our lives have been impacted in many ways. Trusting in God to supply your needs builds your faith and reliance on Him, learning to live in His strength and not you own.
As I look back over the years it is hard to pick just one special thing God has done on our behalf. Let me share just one in closing. In 2002 we suffered one on the worst typhoons in KTWR history. We had severe damage to the antennas, with two being a total loss. When we approached the manufacturer for replacement parts, they told us it would be six months before we could get the parts. Two weeks later they called and said the parts were ready to ship. That was truly a work of God.