Mary Mom | Connecting with Women's Hearts
November 22, 2010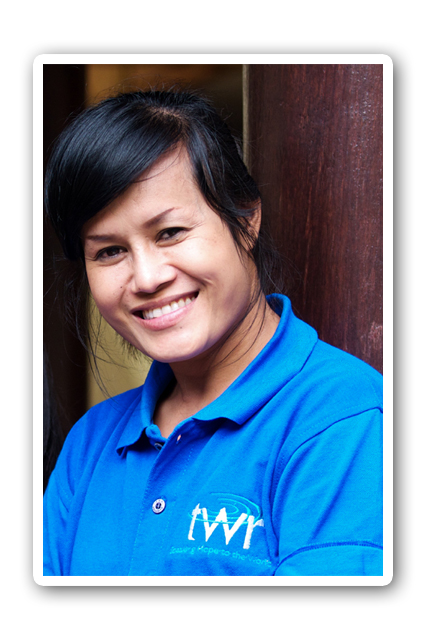 Bubbly, lively and energetic. These are three words that describe Mary Mom from TWR-Cambodia. Mary may have a diminutive frame, but she makes up for it with an infectious enthusiasm and a hearty laugh. A warm and friendly person, Mary has a gift of putting people at ease (especially when she flashes that killer smile). And here's a secret…not many people know this, but Mary is one of the rare few who can actually touch her nose with her tongue!
Tell us a bit about yourself. How did you come to join TWR?
I oversee the women's ministry in TWR-Cambodia. I have been serving in TWR-Cambodia for nine years. I have always felt a burden to extend a helping hand to women in Cambodia after witnessing their prolonged suffering for many years. I believe it was God's calling and His perfect timing when someone I knew (who was working in TWR) informed me about a vacancy in TWR-Cambodia just after I completed my studies in Bible college.
What you do in the ministry?
I am responsible for developing and producing Women of Hope programs for Project Hannah. The program consists primarily of three segments. For example, lessons for life, teaching of God's Word and playing of songs or reading of listeners' testimonies.
I am also involved in extensive field work as I travel to visit the listeners in the villages every month, and would normally stay for a period of three to four days to build friendships with them. There are currently 20 women's listener-groups throughout Cambodia, with about 15 women in each group.
Describe some challenges you have overcome.
One of the challenges we face is to continually keep up with the times. The format of the program has not changed significantly, but the content has changed over the years to minister to the constantly evolving needs of the listeners.
Another challenge is that the women whom I meet at initial meetings during my field trips are usually not comfortable sharing their problems with me. As such, I need more time and patience to build trust between us before they open their hearts to talk about their sorrows and difficulties in life.
Some of the listeners in the villages are also living in such a dire state of poverty, that they are not even able to afford a radio. Under such circumstances, I would usually bring along a portable CD player when I visit them, with programs on some CDs. They will gather and listen to the programs together. Sometimes, someone in the village may have a CD player, so I will leave the CDs for them to continue listening.
How has God blessed you as you serve in TWR-Cambodia?
God has enabled me to do all things through Christ. The testimonies of the women in the provinces are a source of encouragement and a great motivation. The opportunity to work in TWR did not happen by chance but was God's plan and a blessing for me.