Simon Subba | Passion for Christ
December 22, 2010
Simon Subba oversees TWR's ministry in Nepal. He is a humble and sincere person, and is whole-heartedly devoted to sharing God's love with the people in Nepal. Simon works with a dedicated group of men and women, and is very much a hands-on kind of guy. When you go to Nepal, you can be sure that Simon and his team will take very good care of you as they are excellent hosts!
Share with us how you came to join TWR.
Ever since I came to know my Lord as my personal savior, it was my heart's desire to share the Gospel. I was praying for doors of opportunity to open for a period of time. In 1994, during the final year of my theological studies in India, a group of staff from TWR-South Asia (as it was known then) visited our school and asked if any students would love to work with TWR.
I was convinced in my heart that this ministry would be the right place for me: their mission, vision and involvement in regional ministries struck a chord with me. In 1995, I applied to the ministry and started work as a Nepali program producer.
How did you overcome the challenges you faced in your work?
At the start of the ministry in Nepal, we recognized that broadcasting over FM radio was perhaps the most effective way to reach our audience in Nepal – FM radio is popular and accessible in Nepal. However, when we approached the FM stations to broadcast our programs, they were hesitant to broadcast our programs. We prayed about this problem at hand.
One day in June 2005, a prominent FM station took a bold step to broadcast our programs. This actually gave courage to other FM stations to be open to broadcasting Christian programs. Later on, other FM stations started to take the initiative, and requested us to give them our programs.
In 2006, I was entrusted with the responsibility to lead the ministry in Nepal. It was challenging for me initially as administration and management duties are completely different from programming work. I prayed for God's guidance in my work and I give thanks to Him for teaching me new things.
When we began, none of the staff in TWR-Nepal had prior experience in media. As a result we needed to work harder, and we received training in our areas of work, and now I feel that this has paid off. I myself am still learning in several areas of my work.
Can you share a testimony or example in which God has blessed you or your ministry/work?
Personally, I have been blessed in my spiritual growth with God and the understanding of the Word. Due to my involvement in the production of Nepali programs, I am overjoyed to know of listeners accepting the Lord through our programs, and to hear of their lives being transformed. God has also blessed us with a wonderful team and opportunities to partner with numerous churches.
How have the listeners responded to TWR-Nepal's programs?
I believe TWR can be considered one of the pioneers in Nepal, when it comes to reaching the Nepalese people for Christ by mass media.
Our radio programs are well-received by believers and non-believers in Nepal. We receive up to 1200 letters, SMSes and phone calls on average per month. Out of these responses are a considerable number of non-Christians who wrote in to indicate their keen interest to know more about our Savior. Several church leaders are also using our broadcasting content for Bible studies and sermon materials for teaching and learning.
Whenever we made a trip to the villages and churches, we are easily able to find listeners of our programs!
How has the ministry grown since it first began?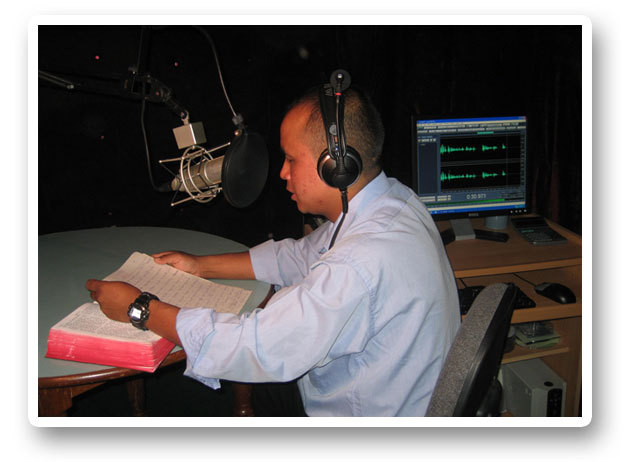 Our ministry has been broadcasting several programs in Nepal for over two decades. Initially, TWR did not have a physical presence in Nepal. TWR-India was overseeing the minsitry in this region, and I was based in India. Back then, there were 3 field workers in Nepal supporting the ministry work. It was only in 2005 that I was relocated back to Nepal to set up an office for our ministry in Butwal, West Nepal.
Our ministry began broadcasting Christian programs from one local FM station in 2005, and at first we received up about 20 letters from our listeners. We did not have our own studio and often had to travel to TWR-India — or any other available studio — to produce the programs.
Today, we have partnerships with 39 stations broadcasting 61 hours of TWR programs weekly in Nepal. Listeners' responses have increased to 1200 monthly and we have up to 90 radio bible study groups. We have also grown to a staff strength of 13 team members.
In January 2011, we will be able to record our programs in a new recording studio, thanks to generous gift of a donor and God's providence. God has provided us with one of the best studios in Nepal!
Are there any lessons or words of encouragement for those in TWR?
When we seek His kingdom and righteousness, everything shall be added unto us in His time. If our heart is ready to be used by Him despite our weaknesses, He will bless our efforts! Continue to trust God for His grace and guidance, and focus on doing on what you are called to do with all your passion.