Samoeun Mom | Stepping into Broadcasting
January 25, 2011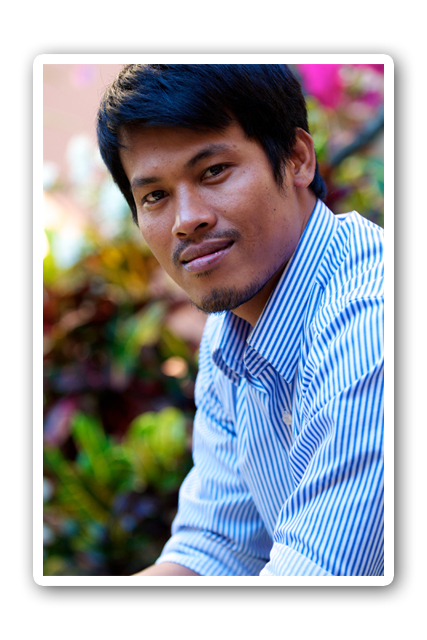 If you find Samoeun familiar, it is because his sister Mary was featured last November. Bearing a striking resemblance is not the only thing they have in common. They also both serve in TWR-Cambodia, albeit in different departments. While Samoeun's job does not often require him to minister to listeners face-to-face, it is no less important as he ensure programs and scripts are recorded and edited, and then sent on to the FM stations for broadcast.
Share with us how you came to join TWR.
I came to know about TWR in Cambodia when I was studying in Bible college. I began as a volunteer and have been working together with the TWR-Cambodia team since 2000. Then, I would play the guitar and minister to children that TWR-Cambodia invited from various churches.
One day, there was a job opening for a Studio Operations Co-ordinator and I applied. This was how I began my journey in serving full-time in the ministry.
Describe some challenges you faced in your work and how you overcame them.
I have been the Studio Operations Co-ordinator in TWR-Cambodia since 2002. My main responsibility is to record and edit programs for broadcasting.
When I first started work in Studio Operations, I had little prior audio work experience and it was not easy. Along the way, I managed to learn on-the-job. In 2006, God sent an experienced staff from our international office in Cary came to Cambodia to give us formal training. I acquired knowledge and techniques from him to help me perform my job better.
Another challenge then were the outdated computer and studio equipment. It was really slow and took me a long time to produce the programs. Due to budget constraints, we did not have the resources to upgrade these IT and studio equipment then. The number of staff in the studio operations team was also smaller, with one full-time staff (myself) and two volunteers.
God is faithful. We have since been blessed with the latest studio and IT equipment. Our ministry has also grown to 16 full-time staff. We now have more young staff who are willing to dedicate their lives to serve the Lord as compared to 10 years ago. The happy news is that our work has paid off as more churches and organizations now know about us. God never fails to meet the financial needs of the ministry, and always provides adequately to meet our needs every year. This always renews our strength to serve him.
How are the listeners' responses to the programs?
We have received a lot of text messages and letters from listeners expressing appreciation for our programs. Many have commented that the programs are enriching and minister to their soul.We are glad to hear that because TWR-Cambodia exists to share God's blessings through His Word to the listeners via our programs.
Do you have any words of encouragement for others who are serving in full-time ministry?
Do not hesitate to come forward to serve because God will fight the battle for you despite the challenges.