Steffen and Daisy | Serving God together
March 5, 2011
We have the privilege of inviting Daisy and Steffen Ndoen, a couple dedicated to serving in TWR-Indonesia, to share about their journey at work and how they have drawn strength from Christ and each other in times of challenges.

Share with us how both of you first met.
Daisy: Both of us got to know each other as students at the Providensia Theological College in Batu Malang, East Java, in the year 2000. There were strict regulations that boys and girls should not date before the third year in the seminary. So we only started our relationship in the fifth semester and got married in the year 2006.
How did you know about TWR and join the ministry?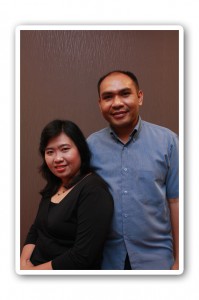 Steffen: I had the opportunity to serve as a volunteer in TWR-Indonesia. I started by coordinating the follow-up work with the listeners of the Women of Hope program in Lombok from 2000 to 2001. In 2005, I began serving full-time in TWR-Indonesia, focusing on listeners' needs.
Daisy: In 2002, I took part in an audition for Bible narrators held by TWR-Indonesia for a particular program. The program really impressed me, and became interested in media ministry. I found out more about what TWR-Indonesia was doing. From that time onwards, my passion in TWR-Indonesia's ministry grew. Finally, in 2007, I joined TWR-Indonesia as a team member in the Youth and Children ministry. However, currently, I am serving in TWR-Indonesia on a part-time basis as I am also a home-maker! I also join other ladies to serve in different churches in my hometown.
Describe the nature of your work in TWR.
Steffen: I play the role of counselor to the listeners. I communicate with them via mail, email, SMSes or phone calls. Occasionally, I may need to meet them personally. I have been doing this over the last 5 years, and I am enjoying it tremendously!
Daisy: I am involved in the design and production of radio programs. I also liaise with the local churches to find out what needs the churches have, and so tailor the programs accordingly. I also build partnership opportunities with these churches and assist in following up with the listeners through mail and SMSes.
Share with us your experience as a Christian couple serving in the ministry.
Daisy: We support each other by praying and sharing with each other the needs of our ministry. We work toward the same vision and have a better understanding of what we are facing in our work. We do have an advantage over most couples as we get to meet each other often and be engaged in the same ministry activities.
What are some challenges in the ministry you have learnt to overcome?
Steffen: A common challenge we face is from unbelievers who may happen to be the listeners' family members. They feel uncomfortable listening to the Word and unsupportive of their family members who have accepted Christ. What we can do is to pray.
Daisy: I share the same sentiments with Steffen. We cannot do much by our efforts in this area but by prayer and love.
Are there any precious lessons you gained during your time in the ministry?
Steffen: My spiritual life has grown after serving in the ministry. I felt I am more equipped to understand and meet the listeners' needs. I have also learnt to be an obedient and faithful servant for the Lord, abiding in His will and plans.
Daisy: I have learnt to treasure every learning opportunity in the ministry. I have also learnt to embrace the differences in the social, economic, and educational status of the people I meet and treat them fairly. God molds my character each day. I felt drawn closer to the ministry at heart.
Do you have any words of encouragement for our staff and readers?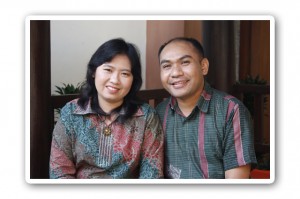 Steffen: Whatever you do for the ministry, your efforts will not be in vain as our Lord will bless them. HE is our helper.
Daisy: It is a privilege to be chosen to be His servant. We should carry out our tasks wholeheartedly as we do it for the glory of our Lord.