TFTW | 180 Degree Change
November 13, 2012
"…so that you became an example to all the believers in Macedonia and in Achaia. For the word of the Lord has sounded forth from you, not only in Macedonia and Achaia, but also in every place your faith toward God has gone forth, so that we have no need to say anything. For they themselves report about us what kind of a reception we had with you, and how you turned to God from idols to serve a living and true God…" — 1 Thessalonians 1:7-9 (NASB)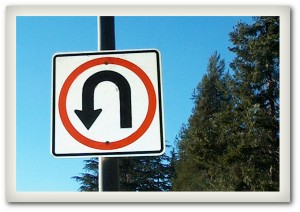 I recently met a friend whom I hadn't seen for almost ten years. Her first question to me was, "Have I changed?" I took a good look and said, "Yes, you have changed. You are even wearing a cross." I described some other external changes.
External changes are often evident at first glance. But, the internal change can usually be seen only when we get to know someone well or at least have some time with them. I hardly had time to even speak with my friend.
Notable change is usually that which is visible. The Bible tells of a group of people whose inward transformation became very evident to others.
The church of Thessalonica had received the gospel of Jesus Christ during Paul's second missionary journey. It is recorded that Paul "…for three Sabbaths reasoned with them from the Scriptures, explaining and giving evidence that the Christ had to suffer and rise again from the dead…. And some were persuaded…." (Acts 17:2-4)
Immediately, they "…became an example to all the believers in Macedonia and in Achaia." (1 Thessalonians 1:7) As Thessalonica was the chief commercial center and capital of Macedonia, many people passed through it to the other cities. Those businessmen heard and saw the lives of the Thessalonians and took those testimonies with them to other centres.
And "…they themselves report…what kind of a reception we had with you, and how you turned to God from idols." (1 Thessalonians 1:9) The differences in those changed lives were described by two prepositions, "to" and "from." Their manner of life was due to a 180 degree change from what it was earlier.
Paul declared that "…if any man is in Christ, he is a new creature; the old things passed away; behold new things have come." (2 Corinthians 5:!7)
When a person turns from an idol, his life may not be changed. He can turn from one idol to another, and still not worship God. But when he turns to God, he will certainly no longer be worshipping idols. Turning to God makes an internal change — a 180 degree transformation of attitude.
When I saw my friend I saw one outward change. Though she was wearing a cross, her heart and mind were still unchanged. It was only a piece of jewelry. I pray that one day, there will be a 180 degree turn-around.
Until then, my friend has not turned from idols, to God. I have met many who embraced Christianity because it helped them in a time of deep need. But nothing in their lives seems to indicate that they have turned to God.
What has been your conversion experience? It's not wrong to turn to Christ for help when there is a crisis. But only when we confess our sins and ask Jesus to be our Saviour, will there be salvation. At that point we will have turned to God from idols. And our changed lives will show it!

---
Thought For The Week (TFTW) is contributed by Dr Koh Siang Kiang, Associate Professor (Christian Education) at the Singapore Bible College (SBC). She graduated from SBC and Dallas Theological Seminary (DTS), USA, and has served in various ministries for more than 35 years, including teaching at DTS. Dr Koh has been with SBC for the last 10 years, and has a passion for people and teaching the Word of God. She also loves to make the Bible come alive by leading tours to the Holy Land, and has led 12 such trips. To help her relax, Dr Koh likes to cook and cross-stitch.