TFTW
June 19, 2012
"A wise son heeds his father?s instruction, but a mocker does not respond to rebukes." — Proverbs 13:1 (NIV)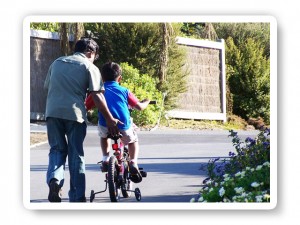 King Solomon wrote, ?A wise son accepts his father?s discipline, But a scoffer does not listen to rebuke.?
Perhaps he was thinking of the first father, Adam, and his two sons, Cain and Abel. The former was the scoffer and the latter, the wise son.
In Genesis 4, we read that both of the brothers brought offerings to God, ?but for Cain and for his offering He[God] had no regard. So Cain became very angry…" (vs 5)
When God warned him of sin he did not heed it, but harbored hatred which led to his killing Abel.
Both boys grew up in the same family, were taught the same lessons of creation, restriction, disobedience, sin, expulsion and salvation. But the difference here is one of response.
Cain willfully ignored the consequences of the Fall when God warned him of his anger. He did acknowledge God as Creator and Sustainer with his offering. But he did not believe he needed a REDEEMER. He did not offer the sacrifice for sin.
Abel on the other hand took heeded his father?s teaching. He brought a sacrifice to atone for his sin. He recognized that he was a sinner.
By the testimony of Scripture, Abel was a righteous man, while Cain?s deeds were evil. Both had the same learning opportunity but one lacked faith.
We are told that ?without faith it is impossible to please God ? (Hebrews 11:6) Wisdom is the application of knowledge. Cain had knowledge but he was not wise. He lacked faith and thus lacked character.
In life, we all have fathers. Above all, we have a heavenly Father. Also, some of you are fathers.
As you search your heart, ask yourself… ?Am I a son/daughter who heeds my father?s (especially if it?s a godly father) discipline?? How well do you allow God to help you apply your knowledge to life, thus making you wise?
Fathers, you cannot control how your children respond to God. But check yourself. Be sure you teach them so that they have no excuse.
The Book of Proverbs describes a faithful father who teaches and disciplines his son. And it also speaks of a wise son who accepts his father?s discipline. Unfortunately, there was another son who scoffed at the father?s rebuke.
May God help each of you to respond to Him as He has taught through His Word.
---
Thought For The Week (TFTW) is contributed by Dr Koh Siang Kiang, Associate Professor (Christian Education) at the Singapore Bible College (SBC). She graduated from SBC and Dallas Theological Seminary (DTS), USA, and has served in various ministries for more than 35 years, including teaching at DTS. Dr Koh has been with SBC for the last 10 years, and has a passion for people and teaching the Word of God. She also loves to make the Bible come alive by leading tours to the Holy Land, and has led 12 such trips. To help her relax, Dr Koh likes to cook and cross-stitch.