TFTW
January 24, 2012
"You became imitators of us and of the Lord; in spite of severe suffering, you welcomed the message with the joy given by the Holy Spirit. And so you became a model to all the believers in Macedonia and Achaia. The Lord?s message rang out from you not only in Macedonia and Achaia?your faith in God has become known everywhere. Therefore we do not need to say anything about it, for they themselves report what kind of reception you gave us. They tell how you turned to God from idols to serve the living and true God, and to wait for his Son from heaven, whom he raised from the dead?Jesus, who rescues us from the coming wrath." — 1 Thessalonians 1:6-10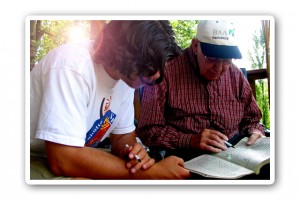 My friend and I meet weekly in a little caf? for fellowship and prayer. When we arrive, we will place our order at the counter, pay and take a number to wait for our food. We take the same table every week, and a waiter or waitress will deliver our food. Each time, we will give thanks before we consume the goodies.
We chat while we eat. At some point, we will turn to Scripture to be encouraged and exhorted, and end the time with prayer.

One day, just before we left, a waiter approached us and asked if we were Christians. He also wanted to know which church we went to. We were curious to know why he asked us those questions. He said that he had been observing us for several weeks, and wanted to be like us. He said that he wanted to know the Jesus who helps people, and he also wanted to learn about the Bible and to pray.
We didn't know that we were being observed, and that our actions were being noted. This is something that we always know, but in this case, it was a stark reminder.
We witness for God not just verbally, but also through the things we do.
The church in Thessalonica was a young church when Paul wrote his epistle to them. For three sabbaths, Paul "…reasoned with them from the Scriptures, explaining and giving evidence that Christ had to suffer and rise again from the dead…" (Acts 17:2-3)
Some were persuaded and responded to God?s Word and "turned to God from idols to serve a living and true God…"
Their belief in Jesus was genuine because they "…became imitators of us and of the Lord, having received the Word in much tribulation…" They mimicked Paul, Silas and Timothy when they "…became an example to all the believers in Macedonia and to Achaia. For the Word of the Lord has sounded forth from you…in every place your faith toward God has gone forth…"
They witnessed through their lives and showed generosity to other cities in Macedonia. Their testimonies also extended to those south of them, in Achaia.
To witness for Jesus is not just to speak for Him. That is only one way to tell others of the Truth. We have heard that "action speaks louder than words". We need to keep in mind that what we do must align with what we say.
To witness by words, you have to take time to talk to someone. And that must be done. But to witness by action happens every single moment of the day. The way you act, react, or respond is being watched.
Reconsider your testimony. How are you like the church in Thessalonica?
Ask God to help you be a living witness in not only what you share but also how you live. Like the waiter watching my friend and I, someone may be doing the same to you, and your life can help someone "…turn to God from idols…"
---
Thought For The Week (TFTW) is contributed by Dr Koh Siang Kiang, Associate Professor (Christian Education) at the Singapore Bible College (SBC). She graduated from SBC and Dallas Theological Seminary (DTS), USA, and has served in various ministries for more than 35 years, including teaching at DTS. Dr Koh has been with SBC for the last 10 years, and has a passion for people and teaching the Word of God. She also loves to make the Bible come alive by leading tours to the Holy Land, and has led 12 such trips. To help her relax, Dr Koh likes to cook and cross-stitch.