TFTW
August 7, 2012
"I have fought the good fight, I have finished the race, I have kept the faith." — 2 Timothy 4:7 (NIV)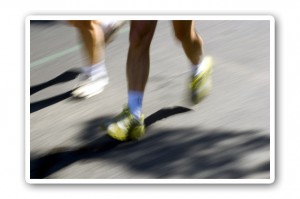 The women?s marathon event for the Olympics just concluded. It was a long race of endurance. While watching the marathon, it brought back memories of cross-country running during my teenage years.
Of course, eight kilometers was nothing compared to 42 kilometers. Still, for a young teenager, it was quite a feat. Hundreds of school children huffed and puffed to try to cross the finishing line. It was hard work.
But I remembered that we were not alone. There were others running with us. Every now and then, I would see someone zip ahead of me. At times, I also picked up speed and caught up with those in front of me. And so it went. I knew I could not give up. I had to press on, or I would be out of the race.
I remember what kept me going. All along the route were supporters. Every few meters, it seems, someone would come alongside me with a cup of cool water. It seems that cross-country days were always hot, humid days. When someone poured a cup of cool water over my head, it refreshed me. I kept going and eventually I finished the course.
The more I think about the Christian life, the more I realise that it is not a sprint but a long distance race. The word "endurance" the Hebrew writer used to talk about the race, suggests a marathon. We need help to keep going.
As we trace Paul's life and second missionary journey in Acts, there were people and events that kept him going. After conversion, Ananias was sent to restore his sight (9:10). Barnabas, the encourager took him and introduced him to the skeptical apostles (9:27). Lydia, his first convert, came along (16:14). In the jail cell at Philippi, he witnessed the conversion of the jailer and his family (16:31-34). The response of the Thessalonians after only three weeks of teaching (17:1-9) helped Paul realise the value of his efforts. Those in Berea examined the Word of God (17:10-11). Aquila and Priscilla gave him hospitality (18:2-3).
Above all, Paul recognised his inadequacies when he proclaimed, "God?s grace is sufficient for you, for power is perfected in weakness." (2 Corinthians 12:9) He saw that unless the Lord helped him, he could not do it.
Therefore he was able to testify toward the end of his life, "I have fought the good fight. I have finished the course, I have kept the faith…"
Many of you may see yourselves just starting your spiritual-life journey. You may have a long way to go before you reach the finishing line. You wonder how you are going to finish well.
Remember this. You can't do it alone. Like cross country runners and Paul, you need supporters.
Who do you have to come alongside you? Is God right beside you?

---
Thought For The Week (TFTW) is contributed by Dr Koh Siang Kiang, Associate Professor (Christian Education) at the Singapore Bible College (SBC). She graduated from SBC and Dallas Theological Seminary (DTS), USA, and has served in various ministries for more than 35 years, including teaching at DTS. Dr Koh has been with SBC for the last 10 years, and has a passion for people and teaching the Word of God. She also loves to make the Bible come alive by leading tours to the Holy Land, and has led 12 such trips. To help her relax, Dr Koh likes to cook and cross-stitch.