TFTW
May 8, 2012
When Jesus saw his mother there, and the disciple whom he loved standing nearby, he said to her, ?Woman, here is your son,? and to the disciple, ?Here is your mother.? From that time on, this disciple took her into his home.
— John 19:26-27 (NIV)

Teach the older men to be temperate, worthy of respect, self-controlled, and sound in faith, in love and in endurance.

Likewise, teach the older women to be reverent in the way they live, not to be slanderers or addicted to much wine, but to teach what is good. Then they can urge the younger women to love their husbands and children, to be self-controlled and pure, to be busy at home, to be kind, and to be subject to their husbands, so that no one will malign the word of God.

Similarly, encourage the young men to be self-controlled. In everything set them an example by doing what is good. In your teaching show integrity, seriousness and soundness of speech that cannot be condemned, so that those who oppose you may be ashamed because they have nothing bad to say about us.
— Titus 2:2-8 (NIV)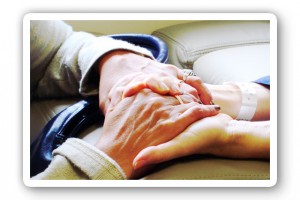 A few weeks ago, a friend entered the presence of our Lord. But, toward the end of last year, knowing that the end was near, he began preparing for the care of his dear wife. He was as detailed as he could possibly anticipate. He also turned to his two young adult sons and entrusted their mother to them.
The two young men, both overseas students, agreed amongst themselves that at anytime one of them will be with their mother in Singapore.
When I heard about this, I thought of Jesus at the cross. When He saw His mother standing by, He said to her ?Woman, behold your son!? Then He turned to the disciple He loved and said, ?Behold, our mother!?
Jesus had brothers and sisters, but from what we read they had not at this time believed in Him as the Son of God.
Jesus? care for His mother was not only for her physical needs. He was definitely concerned for her spiritual and emotional state. And the disciple would have been able to provide that. The text tells us, ?…from that hour the disciple took her into his own household.?
The disciple had been called to be a fisher of men. So he had probably not anticipated this need to care for the mother of Jesus.
In Titus 2:2-4, we read the exhortation concerning another type of care. The older men and women were charged to be examples and encouragers to the younger persons.
When we read the words ?older? and ?younger? we tend to think only of physical age. But here Titus seemed to be making reference also to the spiritual age.
One can be ?older? physically but ?younger? in his/her walk with God. There will always be someone else who is ?younger? than us spiritually whom we can help care for.
Titus exhorts older men to ?…be an example of good deeds, with purity in doctrine, dignified, sound in speech which is beyond reproach…? He exhorts younger women to ?…be reverent in their behavior… teaching what is good,… encourage… to love their husbands, to love their children, to be sensible, pure, workers at home, kind,… that the Word of God may not be dishonored…?
We have a responsibility. I called it ?new? because I am speaking not only of the physical responsibility but the spiritual also. In a sense, we cannot separate the two; but all of Titus? exhortation has to do with helping the soul.
My friend entrusted his wife?s care to his sons. Jesus turned the care of His mother to His disciples. Titus exhorts the older believer to care for the younger.
My question to you is: What younger believer do you know whom you can help care for? Look around and ask the Lord to open your eyes to one who may need discipling. There are many. Realize and accept this responsibility to be an example and encourager to someone beginning today.
---
Thought For The Week (TFTW) is contributed by Dr Koh Siang Kiang, Associate Professor (Christian Education) at the Singapore Bible College (SBC). She graduated from SBC and Dallas Theological Seminary (DTS), USA, and has served in various ministries for more than 35 years, including teaching at DTS. Dr Koh has been with SBC for the last 10 years, and has a passion for people and teaching the Word of God. She also loves to make the Bible come alive by leading tours to the Holy Land, and has led 12 such trips. To help her relax, Dr Koh likes to cook and cross-stitch.