TFTW | A Short, Silent Prayer
October 16, 2012
"Then the king said to me, "What would you request?" So I prayed to the God of heaven." — Nehemiah 2:4 (NASB)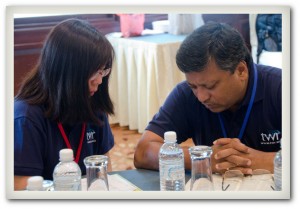 I have been doing a series with my pastoral care group in the Bible College where I teach on "How to survive seminary". Amongst other areas, I highlighted the importance of prayer. The latter, I told my students, is not telling God what to do. He is well aware of what is happening.
We don't want to be like the Pharisees that Jesus talked about. They prayed so that others would see and praise them.
Neither should we be demanding from God, nor should we be praying in unbelief.
Rather, prayer should help us acknowledge our own inabilities and therefore trust in God. Also, we should be seeking God's Will, not expecting Him to conform to what we want.
As I think of prayer, Nehemiah the king's cup bearer comes to mind. One day, when he was on duty the king noticed his sad look and asked why. Nehemiah explained, and the king asked whether he had a request. We are told that Nehemiah "prayed to the God of heaven."
We are not told what he prayed for, or how long he prayed. But he prayed. It seemed that this prayer was a short and silent prayer. Perhaps it was a prayer of thanksgiving? Or a prayer for wisdom to know what to say?
This is not the first time we see Nehemiah pray. In the earlier chapter, when he heard of the devastation of Jerusalem, we are told he fasted and prayed. And it was a longer prayer. But, more significantly, it was a great theological prayer. The contents in Nehemiah 1:5-11 would have the elements of A.C.T.S. (Adoration, Confession, Thanksgiving, Supplication). He prayed according to God's will. It shows that Nehemiah knew God.
At the end of this prayer he asked God to "…make Thy servant successful today, and grant him compassion before this man."
In all 13 chapters of this book, Nehemiah is seen repeatedly in a prayer posture as he dealt with Jews, Jewish leaders, non-Jewish officials or enemies.
Jesus' disciples saw Him praying and asked Him to teach them to pray. Paul constantly exhorts Christians to pray. Spiritual warfare may be one of the reasons that prayer is not easy. But, we must persevere. Our prayer life must be developed.
To pray a short silent prayer, Nehemiah first learned to talk at length with God. He learned not just to ask, but to praise God for who He is, and thank Him for what He has done. He had also learned to confess his short-comings and those of his fellow men.
Have you such an intimate relationship with God that you can talk to Him about anything and everything? Check your heart. Confess your sins and He will forgive you (1 John 1:9). "Rejoice always; pray without ceasing" (1 Thessalonians 5:16-17). You too will be able, in crisis, to pray short, silent prayers.

---
Thought For The Week (TFTW) is contributed by Dr Koh Siang Kiang, Associate Professor (Christian Education) at the Singapore Bible College (SBC). She graduated from SBC and Dallas Theological Seminary (DTS), USA, and has served in various ministries for more than 35 years, including teaching at DTS. Dr Koh has been with SBC for the last 10 years, and has a passion for people and teaching the Word of God. She also loves to make the Bible come alive by leading tours to the Holy Land, and has led 12 such trips. To help her relax, Dr Koh likes to cook and cross-stitch.