TFTW
February 7, 2012
"And if I go and prepare a place for you, I will come back and take you to be with me that you also may be where I am." — John 14:3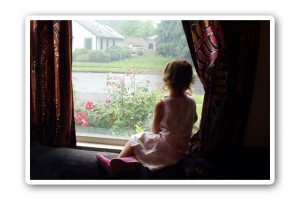 I remember that, as a child, I would get rather upset when my parents went out without me. But each time, they reminded me that they would be gone only a little while, and would be back soon. But "soon" was sometimes not quick enough.
Whenever I heard a sound from outside, I would run to the window to see if they had returned. If I didn?t see them, I would go back to whatever I was doing. This scene would be repeated each time I heard a sound. I couldn?t wait to have them come home.
The anticipation of catching sight of them was exhilarating. But when would they arrive?

Now as an adult, I still dislike temporary separations from loved ones. I have that same anticipation when waiting for their return, especially from an overseas trip.
More than just waiting, I would be busy putting the house in order. I might even cook a special 'welcome home' meal. Once all that is done, I will go to the airport to meet them. At the airport, I will join the hundreds of people at the arrival hall who are watching and waiting for friends and family to arrive.
When there is an announcement of an arrival, there will be a buzz of excitement in the air. It seems I am not the only one who cannot wait to see the person I've been waiting for.
When Jesus told his disciples that he was going away, they were troubled. They had lived and traveled with Jesus for three years, and had learned lots from him. He was always there for them. Having been under the dictatorship of Rome, they had hoped for a new ruler. They had put their hope in Jesus. But this same Jesus was leaving them. Sensing their uneasy hearts, Jesus promised, "…if I go and prepare a place for you, I will come again…"
He is coming again! He has gone to prepare a place for us, and he will return to receive us. What a wonderful, comforting thought to know that Jesus is returning to take us home to Himself.
But when is he coming back for us?
Matthew 24:36 says, "But of that day and hour no one knows, not even the angels…nor the Son, but the Father alone." Paul writes in 1 Thessalonians 5:2 that "…the day of the Lord will come like a thief in the night."
I can?t wait for Jesus to come back! Like in my childhood days, while waiting for my parents to return home, or as an adult getting ready for a loved one coming home, I am waiting for Christ?s return.
The word "waiting" is not a passive verb where one does nothing. It?s an active verb, suggesting that one is busy while anticipating His return. While "waiting", I am busy going about my Father?s business.
Are you waiting for Him to come again? How are you living your life for Him? What are you doing while waiting? In what way are you going about the Father?s business?
---
Thought For The Week (TFTW) is contributed by Dr Koh Siang Kiang, Associate Professor (Christian Education) at the Singapore Bible College (SBC). She graduated from SBC and Dallas Theological Seminary (DTS), USA, and has served in various ministries for more than 35 years, including teaching at DTS. Dr Koh has been with SBC for the last 10 years, and has a passion for people and teaching the Word of God. She also loves to make the Bible come alive by leading tours to the Holy Land, and has led 12 such trips. To help her relax, Dr Koh likes to cook and cross-stitch.