TFTW | Do Not Hinder Them
October 2, 2012
"And they were bringing children to Him so that He might touch them; but the disciples rebuked them. But when Jesus saw this, He was indignant and said to them, "Permit the children to come to Me; do not hinder them; for the kingdom of God belongs to such as these. Truly I say to you, whoever does not receive the kingdom of God like a child will not enter it at all."" — Mark 10:13-15 (NASB)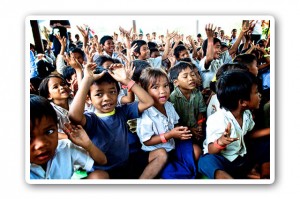 58 years ago, Children's Day was established to "protect children working long hours in dangerous circumstances and allow all children access to an education." In some places, even today, children are neglected and abused. We can't help but feel sorry for them.
Where I live, children are significantly blessed with goods of this world compared to their counterparts in neighbouring countries. Recent newspaper discussions complained that even young children are rushed into an academic rat-race.
It's true they are not talking specifically about Christians. But sadly, the Church has not been spared such competition. Have Christian parents, wanting to give their children the best, fallen into the same materialistic trap?
I have observed that the affluence of the Christian family has affected their spiritual lives. Tuition, enrichment courses, sports and hobbies seem to take priority over worship and Sunday School. Parental priorities can teach that church attendance is secondary to academic pursuit.
As Christians, whether leaders or members, what have we been doing to encourage, exhort and implore the children and parents in their study of God's Word and their spiritual growth?
Many good programmes have been introduced in the church, but do they accomplish our desired end in contrast to those in the secular realms? Our purpose and content must be to give people a chance to know and grow in God.
As I consider the responsibilities of the church, I can't help but think of the incident when Jesus was "…indignant and said to them, 'Permit the children to come to Me; do not hinder them; for the kingdom of God belongs to such as these…'"
The disciples did not want Jesus' teaching to be interrupted. They rebuked those who brought children to Jesus.
The disciples had been with Jesus for a while and should have known Jesus' priorities. Yes, He wanted to teach and minister to adults, but He also loved the children. That's perhaps why He was angry and rebuked His disciples. They were hindering children from coming to Him.
Jesus, in His ministry, did not exclude anyone, young or old, poor or rich, educated or illiterate. Everybody was important to Him.
Yes, He came to seek and to save the lost. Until He died on the cross, and rose again from the dead, He was physically with people, teaching them. To His disciples (and us) He imparted the great commission to "make disciples…teaching them to observe all that I commanded you…." (Matthew 28:19-20)
Children's Day may have been intended as a protection for working children. But what about the children God gave to your charge? They may not be your own "flesh and blood," but have been put in your path. How have you protected them from the attractions of the world? What have you done to ensure that they are not hindered from knowing God?
Check and make sure your schedule and programs are the kind that give children opportunity to know Him and be blessed by Him.

---
Thought For The Week (TFTW) is contributed by Dr Koh Siang Kiang, Associate Professor (Christian Education) at the Singapore Bible College (SBC). She graduated from SBC and Dallas Theological Seminary (DTS), USA, and has served in various ministries for more than 35 years, including teaching at DTS. Dr Koh has been with SBC for the last 10 years, and has a passion for people and teaching the Word of God. She also loves to make the Bible come alive by leading tours to the Holy Land, and has led 12 such trips. To help her relax, Dr Koh likes to cook and cross-stitch.