TFTW
October 3, 2011
A spot by the Sea of Galilee is identified as the place where Jesus reinstated Peter after His resurrection. No one is sure if this is the exact place. Still, in each of my trips to Israel, I have remembered that significant event which happened somewhere by the sea.
Peter had denied Jesus three times, as predicted. He had repented but he was discouraged. He wanted to go back to the security of his old trade, fishing. He, and his companions, had been fishing all night and caught nothing. At daybreak Jesus appeared and asked them to ?cast the net on the right hand side of the boat??
They obeyed and hauled in 153 fish.

After the miraculous catch, Jesus invited them to a breakfast He had prepared. Following that, Jesus asked Peter three times, ?Do you love me?? With each positive response from Peter, Jesus gave him a commission:
?Feed My Sheep.?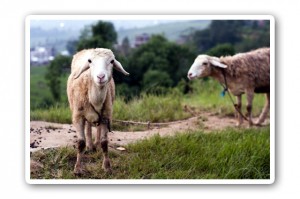 What does that involve? Coming from Palestine, Peter knew about sheep surely. Sheep are not very clever animals. They do not know how to look for food. They need to be led to pastures to find food. They are easily distracted. They have a tendency to wander off, so they need to be disciplined. Sheep are easy prey for predators. They need to be protected from ferocious creatures.
Peter was called to be a Shepherd of God?s sheep. To show his care, he was to lead them to know God; to protect them from enemies; and he was to warn them. He would lead and protect, by teaching them God?s Word. To help them keep on track, Peter was to constantly bring them back to the fold ? sometimes by discipline.
But what particularly strikes a chord with me is not just what Peter was to do, but that Jesus asked Peter to do it.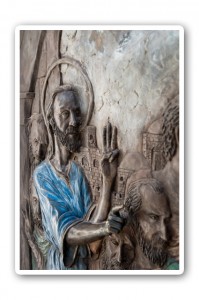 Peter had been in Jesus? inner circle of disciples. He spoke with great insight when he declared, ?You are Christ, the Son of the living God.? With great confidence he proclaimed his readiness to die for Jesus. But in the hour of danger, Peter denied Him. Humiliated, he went back to his old trade. But Jesus was not done with His disciple. He recommissioned Peter.
Many of us can identify with Peter. We can be on a high one moment, yet fall to low depths the next. If we truly repent, Jesus promised to forgive. And He is not done with us. He wants to use us ? to feed His sheep.
What temptations or challenges are you struggling with now?
Is it something that you thought has brought shame to Jesus? Did you think Jesus was done with you? Have you repented of your wrong doing?
If not, like Peter, truly repent. We?ve been promised that ?if we confess our sins, He is faithful and righteous to forgive us our sins and to cleanse us from all unrighteousness.? (1 John 1:9).
Like Peter, after his repentance, Jesus still has work for you. Jesus asked Peter to feed His sheep. We have been commissioned to ?make disciples?to teach them to obey all that Jesus commanded.?
Let Jesus clean your wounds, and then get on with the task of feeding the sheep He has entrusted to your care.
---
Thought For The Week (TFTW) is contributed by Dr Koh Siang Kiang, Associate Professor (Christian Education) at the Singapore Bible College (SBC). She graduated from SBC and Dallas Theological Seminary (DTS), USA, and has served in various ministries for more than 35 years, including teaching at DTS. Dr Koh has been with SBC for the last 10 years, and has a passion for people and teaching the Word of God. She also loves to make the Bible come alive by leading tours to the Holy Land, and has led 12 such trips. To help her relax, Dr Koh likes to cook and cross-stitch.