TFTW | God With Us
December 4, 2012
"Behold, the virgin shall be with child and shall bear a Son, and they shall call His name Immanuel, which translated means, 'God with us.'" — Matthew 1:23 (NASB)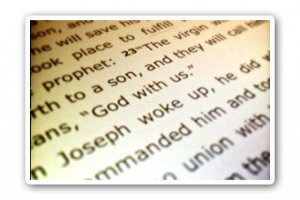 I was watching a toddler playing happily in the park. Every now and then, he would run to his daddy, get a quick hug and run off again to have fun. But he didn't always go to his father. He would sometimes just turn toward his dad, who smiled and gave a wave to say, "I am here with you." With that smile, the contented child continued to play.
"I am with you," said the child's father. More than two thousand years ago, a Child was born and His name was called "Immanuel", which translated means "GOD WITH US". That Child, we know as Jesus, the Saviour of the world.
To some it is just another name, but in this case, this name represents a relationship. This is what it is like with our relationship with our heavenly Father — "God with us."
When Jesus was on earth, the disciples could say "God with us," but what happened after He died and rose again?
Before Jesus went to the cross, He reminded His disciples, "…I will ask the Father, and He will give you another Helper, that He may be with you forever…." (John 14:16)
Also, when He gave the great commission to His disciples He said, "…I am with you always, even to the end of the age."
It may be difficult for finite minds to comprehend everything, but faith believes that God is with you, now and always. We may not see Him, but we trust His presence with us.
In Hebrews 13:5, the writer quoted God's promise from the Old Testament "I will never desert you, nor will I ever forsake you."
In Scripture and in life, we have seen that those who put their trust in the Lord know "God with us."
The little boy knew his dad loved him, and the assuring voice and words were sufficient for him to feel safe and get on with life. What about you? What is your relationship with God like for you to feel assured that He is with you?
When you next sing,
"O come, O come, Emmanuel
And ransom captive Israel
That mourns in lonely exile here
Until the Son of God appear
Rejoice! Rejoice! Emmanuel
Shall come to thee, O Israel"
ask yourself, "Where is Emmanuel in relation to me?"
I trust you can answer with confidence that "He is in me and with me."
Write a check list of the times in your life that you specifically experienced "God with us."

---
Thought For The Week (TFTW) is contributed by Dr Koh Siang Kiang, Associate Professor (Christian Education) at the Singapore Bible College (SBC). She graduated from SBC and Dallas Theological Seminary (DTS), USA, and has served in various ministries for more than 35 years, including teaching at DTS. Dr Koh has been with SBC for the last 10 years, and has a passion for people and teaching the Word of God. She also loves to make the Bible come alive by leading tours to the Holy Land, and has led 12 such trips. To help her relax, Dr Koh likes to cook and cross-stitch.