TFTW | God's Charge (Joshua 1:1-9)
August 22, 2011
NEBO NEWS (1405 BC): The man who led two million people out of Egypt across the Red Sea, met God face-to-face, taught the people to rely on God, and was handed the Ten Commandments — is dead!
BBC NEWS (July 28, 2011): Dr. John Stott, one of the world's most influential figures in the spread of evangelical Christianity in the last half century, is dead!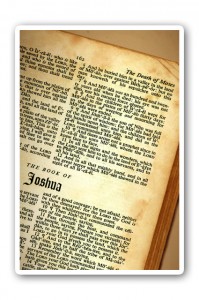 Whenever we learn of the passing of a spiritual giant, we grieve. We wonder, who will continue that great work of God?
Rightfully, we need to be concerned. But, God is even more concerned.
Immediately after Moses' death, God spoke to Joshua, "Arise, cross…to the land which I am giving to them…"
Did you ever wonder how Joshua felt? I have. But then, we remember God had been preparing Joshua for this day. Amongst other challenges, Joshua prevailed in one of the first battles fought in the wilderness, was one of the twelve sent to spy out the land, and came back steadfast in faith. Shouldn't all that have prepared him for this new responsibility?
Humanly speaking, yes. But spiritually, the task was tremendous. Joshua had "big shoes" to fill. He needed assurance. Three times God encouraged him saying, "I will be with you; I will not fail you or forsake you. Be strong and courageous…Do not tremble or be dismayed, for the Lord your God is with you wherever you go."
How would Joshua know God's presence and promises? The same way you and I are given that knowledge.
Joshua was charged to "be careful to do according to all the law" and "not turn from it to the right or to the left" so that he may have success wherever he goes. The book of the law, God's Word, was to be Joshua's authority for life and faith. Success would come not by his own strength but by letting the Word be his guidebook, his devotional book, his instruction book, his textbook. He was to let the Word control his everyday life.
To be successful, the world gives us a set of man-made guidelines. But God simply says "teach them to observe all I commanded you…."
Many 21st century Christians say it's difficult to obey God's Word! It goes against the grain of modern philosophy. It's old fashioned!
But it has been lived out in the lives of successful godly people like John Stott. We are told he always turned to the Bible for understanding, and practiced thoughtful allegiance to Scripture.
Moses is dead! Joshua was chosen as the successor. He was to lead by being a practitioner of the Word. John Stott is dead. Yes, he has a successor.
God has a charge for each of you to carry on the great commission. How are you to accomplish that successfully?
Meditate, Live Out and Teach the Word of God.
---
Thought For The Week (TFTW) is contributed by Dr Koh Siang Kiang, Associate Professor (Christian Education) at the Singapore Bible College (SBC). She graduated from SBC and Dallas Theological Seminary (DTS), USA, and has served in various ministries for more than 35 years, including teaching at DTS. Dr Koh has been with SBC for the last 10 years, and has a passion for people and teaching the Word of God. She also loves to make the Bible come alive by leading tours to the Holy Land, and has led 12 such trips. To help her relax, Dr Koh likes to cook and cross-stitch.