TFTW | Guided Or Wandering?
October 9, 2012
"Your clothing did not wear out on you, nor did your foot swell these forty years. Thus you are to know in your heart that the Lord your God was disciplining you just as a man disciplines his son. Therefore, you shall keep the commandments of the Lord your God, to walk in His ways and to fear Him." — Deuteronomy 8:4-6 (NASB)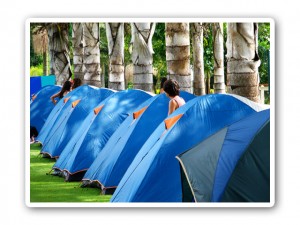 Friends from England wrote to say they went on four camping trips this year. Given their kind of weather, their camping year is confined to the summer months. They also said that they had a great time during those trips, and were able to keep dry.
Being a city kid, camping is not my most preferred activity. I enjoy the outdoors, but I like coming home to the comforts of my own bed. I don't like sharing my space with creepy-crawlies.
I thought of the Israelites who celebrated Sukkot or the Feast of Tabernacle last week. It was a
"holy convocation," and they were instructed "…you shall do no laborious work."
Moses told them to "take for yourselves foliage of beautiful trees, palm branches…; and you shall rejoice before the Lord…. You shall live in booths for seven days…so that your generation may know that I had the sons of Israel live in booths when I brought them out from the land of Egypt."
Even today, Jews pitch tents in their houses or living rooms of their apartments to remember their past. As they look back on the 40 years after God delivered them from slavery in Egypt, the Jews will no doubt remember the days when their forefathers wandered in the wilderness. But were they really wandering? A quick review of events of those years will show that God was guiding them.
From the time they left Egypt "the Lord was going before them in a pillar of cloud by day to lead them on the way, and in a pillar of fire by night to give them light…." (Exodus 13:21-22) They were reminded that "…He has known your wanderings through this great wilderness. These forty years the Lord your God has been with you; you have not lacked a thing." (Deuteronomy 2:7) "Your clothing did not wear out on you, nor did your foot swell these forty years." (Deut 8:4)
The short journey, from Egypt to the Land of Promise would have taken about a month. But their unbelief took them a longer journey so that: "…He might humble you, testing you, to know what was in your heart, whether you would keep His commandments or not. And He humbled you…let you be hungry, and fed you with manna…that He might make you understand that man does not live by bread alone, but…by everything that proceeds out of the mouth of the Lord… Thus you are to know…that your God was disciplining you…."
In our moments of unbelief, we may feel we are "wandering in the wilderness." But the hymn "Guide me, O thou great Jehovah" reminds us that though we may be "pilgrims through this barren land. I am weak, but thou art mighty; hold me with Thy powerful hand. Bread of heaven, feed me till I want no more,"
The Jews in celebrating Sukkot are looking back at the events of their history. I am glad I don't have to pitch a tent. But as believers, we must remember the principles. Look back at your life and write down how God has guided you with His powerful hand. Then look forward to His promises of the future.

---
Thought For The Week (TFTW) is contributed by Dr Koh Siang Kiang, Associate Professor (Christian Education) at the Singapore Bible College (SBC). She graduated from SBC and Dallas Theological Seminary (DTS), USA, and has served in various ministries for more than 35 years, including teaching at DTS. Dr Koh has been with SBC for the last 10 years, and has a passion for people and teaching the Word of God. She also loves to make the Bible come alive by leading tours to the Holy Land, and has led 12 such trips. To help her relax, Dr Koh likes to cook and cross-stitch.