TFTW | Keep your Focus
November 20, 2012
"Teach me, O Lord, the way of Your statutes,
And I shall observe it to the end.
Give me understanding, that I may observe Your law
And keep it with all my heart.
Make me walk in the path of Your commandments,
For I delight in it.
Incline my heart to Your testimonies
And not to dishonest gain.
Turn away my eyes from looking at vanity,
And revive me in Your ways.
Establish Your word to Your servant,
As that which produces reverence for You.
Turn away my reproach which I dread,
For Your ordinances are good.
Behold, I long for Your precepts;
Revive me through Your righteousness." — Psalm 119:33-40 (NASB)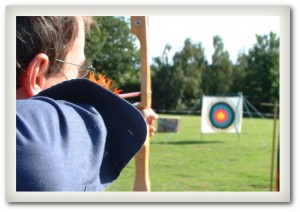 At the park where I do my brisk walk every morning, there are about ten older ladies doing their exercises following a video.
As I walk round the track, I can see what they are doing. There is always one lady who is very intent on following the video. Her head is never turned to the right or the left, unless it for the exercise.
But the rest will be facing each other and having conversations. Rather than following the video, they are busy with other things and not concentrating. Thus their exercise moves are all out of sync with the video.
But, all this while, that one particular lady keeps up with her video exercises. She came for a purpose and is determined not to let the chatter distract her. Her eyes are focused on the screen despite what's going on around her.
What I saw very much describes the Christian life. Whether in the family, in small groups or at church, there are always a few who are focused on spiritual things. Unfortunately, more would fall into the category of those who tend to get distracted.
The latter are not necessarily wrong, but it keeps them from doing the things they should. The psalmist rightly prayed "Turn away my eyes from looking at vanity." This could include worldly thoughts, un-Christlike behaviour and material goods. We can become tempted by these things.
I believe that is why the psalmist prayed, "Teach me, O LORD, the way of Thy statues, And I shall observe it to the end." Synonyms of 'observe' include 'watch', 'view', 'scrutinize', 'monitor', 'study', 'examine'. Each of these words suggests the concentration of thought.
To look to God, we must keep our focus on His statues, which is another term for God's Law. His Word also helps us walk in the path of His commandments as we incline our hearts to His testimonies.
The psalmist knew the human constraints, so he prayed "Teach me…Give me understanding…Make me walk… Incline my heart…Turn away my eyes…Turn away my reproach…." He knew he needed help in his relationship with God.
I wonder how that one lady manages to keep her focus despite all the chatter around her? Like her, the Psalmist kept his focus on the Lord, through His Word.
How are you handling distractions in your Christian life? Where is your focus? What is it that keeps you walking in His ways?

---
Thought For The Week (TFTW) is contributed by Dr Koh Siang Kiang, Associate Professor (Christian Education) at the Singapore Bible College (SBC). She graduated from SBC and Dallas Theological Seminary (DTS), USA, and has served in various ministries for more than 35 years, including teaching at DTS. Dr Koh has been with SBC for the last 10 years, and has a passion for people and teaching the Word of God. She also loves to make the Bible come alive by leading tours to the Holy Land, and has led 12 such trips. To help her relax, Dr Koh likes to cook and cross-stitch.