TFTW
September 27, 2011
"And let us consider how we may spur one another on toward love and good deeds. Let us not give up meeting together, as some are in the habit of doing, but let us encourage one another ? and all the more as you see the Day approaching." — Hebrews 10:24-25 (NIV)

Thursday, 29 September, is New Year?s Day in Israel. This day is known as Rosh Hashanah.
Wherever we are, whether old or young, most people love New Year celebrations, even if it is for different reasons. For some, it?s for a day off work or school. For others, it?s the new clothes, food, or gifts.
Every culture celebrates the New Year differently. But one thing is common. There?s usually a gathering of family and friends. Food is plentiful. There is lots of chatter and merry-making.
For Jews, the civil year begins on the first day of the lunar month Tishri (Sept/Oct in our calendar).
Unlike other special days in the Jewish calendar, this does not commemorate a historical event, nor does it mark a significant agricultural season. Although all Jews celebrate Rosh Hashanah, the truly religious Jews set this apart as a time for spiritual renewal.
The simple instructions for that day are recorded in Leviticus 23:24-25. The people were to meet as one great congregation, present an offering to God, and refrain from any ordinary work.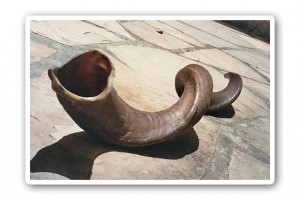 It was to be introduced by a memorial blowing of trumpets. In the Old Testament, it is called the Feast of Trumpets.
The trumpet spoken of is the shofar, a ram?s horn, unlike the silver or bronze trumpets used on other occasions. That is still the practice in many synagogues today. The shofar gives a low, mournful sound, intended to call the people not only to assemble, but to meditate deeply on their life ? past, present and future.
Portions of scripture read on that day are meant to lead the people to meditation and prayer, heart-searching and confession of sin.
What a contrast to the partying, revelry and even drunkenness characteristic of typical New Year celebrations!
The writer to the Hebrews exhorted the assembling together of believers for the purpose of encouraging each other. In ecclesiastical terms, this gathering is called fellowship.
The Greek word for fellowship is koinonia. The true meaning of fellowship/koinonia is ?to hold something in common.?
The ?something in common? that we do together is talking about God. When we exhort one another to love and walk closer to God — that is koinonia.
True koinonia is more than just coming together for pot-luck dinners, watching movies, hiking or playing soccer with your Christian friends.
This is not to say that the time we spend with each other must be mournful. It can be fun, but the point is, we need to use our gathering together as God?s people, as an opportunity for encouraging each other.
What is your understanding of fellowship? Dining and hiking may be avenues used for Christians to gather to encourage each other in the Lord. Conversation about the weather, sports, health and wealth is unavoidable. But do you use such topics to help one another know God more?
We have several weeks to plan before the calendar turns to 2012. New Year?s Eve will be quite different if you know the next day will be spent in self-examination, confession and spiritual renewal.
Even before that, the next time you get together with a Christian friend, go with the intent to enjoy koinonia.
---
Thought For The Week (TFTW) is contributed by Dr Koh Siang Kiang, Associate Professor (Christian Education) at the Singapore Bible College (SBC). She graduated from SBC and Dallas Theological Seminary (DTS), USA, and has served in various ministries for more than 35 years, including teaching at DTS. Dr Koh has been with SBC for the last 10 years, and has a passion for people and teaching the Word of God. She also loves to make the Bible come alive by leading tours to the Holy Land, and has led 12 such trips. To help her relax, Dr Koh likes to cook and cross-stitch.