TFTW | Leaving A Legacy
September 11, 2012
"Hear, O sons, the instruction of a father,
And give attention that you may gain understanding,
For I give you sound teaching;
Do not abandon my instruction.
When I was a son to my father,
Tender and the only son in the sight of my mother,
Then he taught me and said to me,
"Let your heart hold fast my words;
Keep my commandments and live;" — Proverbs 4:1-4 (NASB)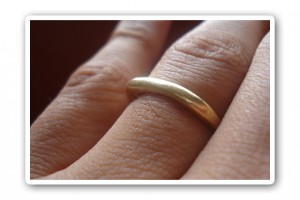 On my little finger is a ring I have been wearing for years. It is an inheritance from my late paternal grandmother with whom I was very close. Being her eldest grand daughter, we did a lot of things together, especially in her later years.
The ring is only a reminder of her. It may be a gold ring, but it's her legacy of life that she left me that is most valuable. Granny showed care and concern for everyone, including people in the lowest rung of society. She knew no class or race distinction. I can still see the jug of water and a pot of boiling coffee at the back of the house for the road sweepers and the garbage collectors. They would slip their hands to open the latch of the back door, come in and help themselves when they needed a drink. That image never left my mind.
What I saw taught me a lot about loving people. And all the more since I became a child of God.
When I think about legacy, I recall a father who gave his son these instructions, "…I give you sound teaching; Do not abandon my instruction. When I was a son to my father, …he taught me and said to me, 'Let your heart hold fast my words; Keep my commandments and live…."
This father, Solomon, was teaching his son, Rehoboam. The father was passing on the legacy of his father, David, to his own son. It was sound teaching that he was handing down, and he advised his son not to abandon those instructions.
From David, Solomon learned to love God and His Word. Scripture calls the latter, "a man after God's own heart." (1 Samuel 13:14) By no means was David perfect. As fallen humanity, he failed but when convicted he repented.
As he taught his son, David set the example of following God's Word. Solomon did emulate his father for a while, but his flesh came in the way and he was distracted. But later in life he returned to the ways of his father.
This last week, two special occasions reminded me of the topic of leaving a legacy — Teachers' Day and Grandparents' Day. These two groups of people are in very strategic positions to influence and impact others, both young and old. Their words and actions can make or break a person. After that, it's the decision of the individual what they do with it.
David left a legacy of showing his descendants to be men "after God's own heart." My grandmother taught me the value of people through her actions.
Solomon listened, but his son, Rehoboam did not. I hope the Lord will help me love all people always. It's sad that we live in an age where we can't leave the door open to people with genuine need. Still, I always make sure I say thank you to the garbage collectors.
I want people to remember that I helped their hearts hold fast to God's Word, and through both my teaching and life they will say "I saw her keep God's commandments."
What about you? What kind of legacy do you want to leave for the next generation?

---
Thought For The Week (TFTW) is contributed by Dr Koh Siang Kiang, Associate Professor (Christian Education) at the Singapore Bible College (SBC). She graduated from SBC and Dallas Theological Seminary (DTS), USA, and has served in various ministries for more than 35 years, including teaching at DTS. Dr Koh has been with SBC for the last 10 years, and has a passion for people and teaching the Word of God. She also loves to make the Bible come alive by leading tours to the Holy Land, and has led 12 such trips. To help her relax, Dr Koh likes to cook and cross-stitch.