TFTW | Light In The Midst Of Darkness
June 18, 2013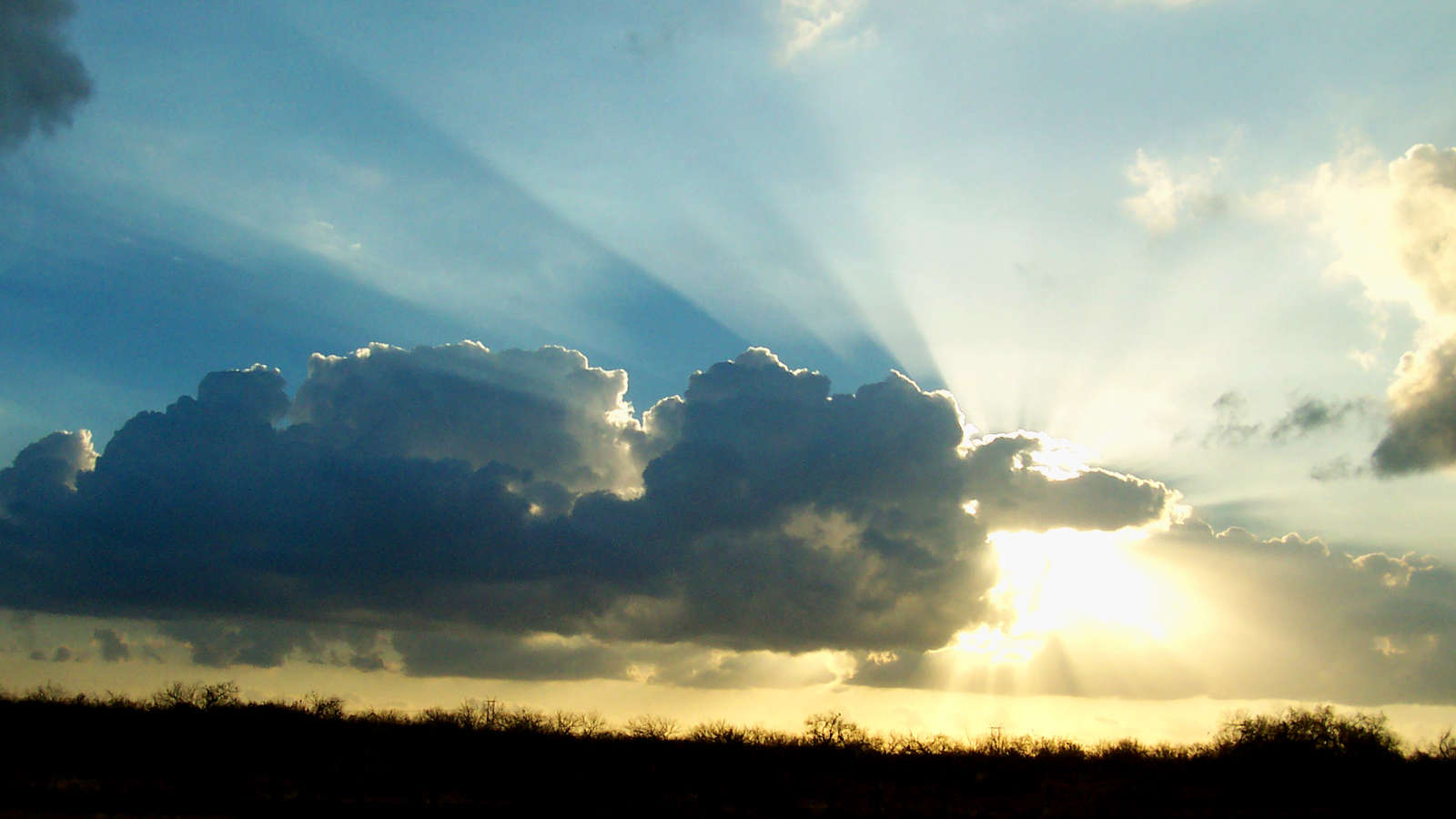 "But for you who fear My name, the sun of righteousness will rise with healing in its wings; and you will go forth and skip about like calves from the stall." — Malachi 4:2 (NASB)
One Sunday morning, while driving to church, I saw a spectacular sky. The sun was like a huge ball in the sky, and the glow around it was stunning. But what was interesting was the dark clouds around it. The sun was glowing in the midst of a dark sky.
The five of us in the car had been talking earlier about the problems in the world. Between natural catastrophes and international tensions the situation looked pretty grim. But then we said, "God is in control."
I said, "Look at the sky. It's dark all around but the sun is glowing. It's like what is happening in the world. Things seem all gloomy, and yet, God is in control."
My thoughts turned to the prophecy of Malachi. "But for you who fear My name, the sun of righteousness will rise with healing in its wings; and you will go forth and skip about like calves from the stall."
He was writing to the Jews who had returned from captivity. God's people had gone through a long period of physical suffering and spiritual darkness. Even now, back in their own homeland, things were not as they had expected. Although they had not entirely forsaken the sins of the past, Malachi warned that there would be a price to pay for their disobedience. But he lifted their sight to a future day when their Messiah, the King will restore righteousness, truth and peace.
The "sun" in this text is a reference to the "Son" of God, Jesus Christ, the One who brings light to a blind world and warmth to a cold world.
Whether through nature or through the Word, God reminds us that despite the doom and gloom, He is still in control.
In your own personal life now, what discouragement might you experiencing? Ask God to help you look to Him Who is in control despite the circumstances.
---
Thought For The Week (TFTW) is contributed by Dr Koh Siang Kiang, Associate Professor (Christian Education) at the Singapore Bible College (SBC). She graduated from SBC and Dallas Theological Seminary (DTS), USA, and has served in various ministries for more than 35 years, including teaching at DTS. Dr Koh has been with SBC for the last 10 years, and has a passion for people and teaching the Word of God. She also loves to make the Bible come alive by leading tours to the Holy Land, and has led 12 such trips. To help her relax, Dr Koh likes to cook and cross-stitch.