TFTW
February 14, 2012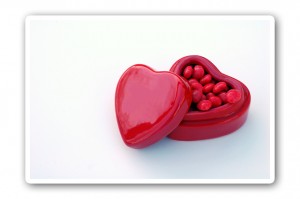 Two of my friends have birthdays on the same day. Last month, when I greeted them and asked about their birthday plans with family, their responses were similar.
"It doesn?t matter. I would rather they love and treat me nicely everyday of the year, not just take me for a dinner on my birthday."
What was interesting was that these two friends of mine do not know each other. My friends desire affection that displays loyalty. They want something that is not fleeting, but permanent.

Scripture speaks of different kinds of love. Two Greek words are used frequently to express the thought of Christian love, "agape" and "phileo". The former refers to God?s love for men. The latter represents tender affection one for another.
Two other Greek words, "eros" and "storge" are used in more secular ways.
"Eros" is passionate love, with sensual desire and longing.
"Storge" is used in two ways: a) as natural affection, like that felt by parents for offspring; or b) to express mere acceptance or putting up with situations, as in "loving" those who mistreat you.
Tomorrow the world will be celebrating Valentines' Day. Thousands of dollars will be spent on showing some kind of affection, especially to the opposite gender. It originated with some Christian ideals, but over the years has devolved to a secular celebration.
The word love and its expressions have, unfortunately, become rather flippant. Even the love of a husband and wife is under threat. The Christian wedding vow which says "till death do us part" has, in some instances, been changed, to our horror, to read "so long as we both shall love".
Paul in the great chapter of love, 1 Corinthians 13, spoke of love as the greatest of the Christian gifts. We are reminded that whatever we say or do, the effort is worthless if love is not present.
In life, people can be cruel but the passage reminds us that we are not to reciprocate. "Love does not
take into account a wrong suffered…" Positively, Paul taught that as a born again believer, we are to rise above all things with the kind of love that "…rejoices with the truth; bears all things, believes the truth…endures all things."
As Christians we are to "…love one another, for love is from God…" (1 John 4: 7), yet it is one of the hardest things to do. In school, the workplace and even at home there is frequently a breakdown of love. It's not always easy to love. Yet, we are to love friends, colleagues, parents, siblings, and even enemies. And it is not just an expression of love shown on certain days, but every day.
That is why my two friends desire that their family love them daily and not only on their birthdays.
How do you love those around you? Lots of money spent on a person doesn't always speak of one's true love.
Love, as the Father loves us and has taught us to love. Think of appropriate and creative ways to show love to those around you — not just on Valentine?s day but everyday.
---
Thought For The Week (TFTW) is contributed by Dr Koh Siang Kiang, Associate Professor (Christian Education) at the Singapore Bible College (SBC). She graduated from SBC and Dallas Theological Seminary (DTS), USA, and has served in various ministries for more than 35 years, including teaching at DTS. Dr Koh has been with SBC for the last 10 years, and has a passion for people and teaching the Word of God. She also loves to make the Bible come alive by leading tours to the Holy Land, and has led 12 such trips. To help her relax, Dr Koh likes to cook and cross-stitch.