TFTW
November 15, 2011
"For Ezra had devoted himself to the study and observance of the Law of the LORD, and to teaching its decrees and laws in Israel." — Ezra 7:10 (NIV)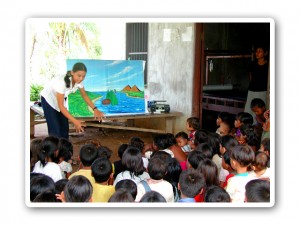 A former student of mine recently shared that most of the Sunday school teachers in her country do not study before they teach. They just read from the teachers' guidebook.
She remembered what I used to tell her class: "Good teaching doesn't just happen. It is the result of hard work."
Not all of us consider ourselves teachers. But we are, whether we teach formally or informally. Let me demonstrate how we are all teachers in our own rights.

As a lecturer in a Bible College and a teacher in a care group, I do formal teaching. When I point someone to God, open the Bible with someone, or when I exemplify truth through my life, I am teaching informally.
I try to do the latter with friends and family. While I do not have children of my own, I have nieces and nephews whom I try to influence for God.
Whether formal or informal, Christian teaching must always begin with Scripture. Ezra was a good example of a teacher. He did not just lecture. He first "set his heart to study God's Word." This takes time and determination. In our day it means giving up some other activity to be able prepare our minds and hearts by personal acquaintance with God's Word.
Second, Ezra 'practiced it'. In today's terminology we would say he personally applied the lessons learned. This requires obedience to the Word.
Third, Ezra "taught God's statutes and ordinances". The statutes and ordinances are God's Word. Only after Ezra had studied and lived out what he learned, did he attempt to teach.
You may have wondered why those steps are necessary.
From experience, I find that when I studied and applied what I read in God's Word, my conviction and excitement is exhibited in the teaching process. Otherwise, just mere words come out.
That's when a class of children can say "it's boring", and a class of adults can call it "dry".
In the discussion with my former student, I encouraged her to love and live the Word.
That is a big challenge! Only the Holy Spirit can enable us to do so. And yes, as a teacher, prayer is essential to make the hours of study, application to life and teaching truly effective.
What are your formal or informal teaching opportunities- Who might your audience be? A class of students, a spouse, a child/children, a niece/nephew, a colleague, a neighbor?
How have you been responding to the challenges placed before you daily? How has your audience been encouraged and helped by the Word in and through you?
Allow Ezra's example to affect your life. Ask the Holy Spirit to give you the determination and discipline to set aside time to study the Word of God. Then ask Him to help you to apply your learning to your daily life. As you do these, He Himself will give you wisdom and opportunities. He will take what you have taught and convict the hearers.
---
Thought For The Week (TFTW) is contributed by Dr Koh Siang Kiang, Associate Professor (Christian Education) at the Singapore Bible College (SBC). She graduated from SBC and Dallas Theological Seminary (DTS), USA, and has served in various ministries for more than 35 years, including teaching at DTS. Dr Koh has been with SBC for the last 10 years, and has a passion for people and teaching the Word of God. She also loves to make the Bible come alive by leading tours to the Holy Land, and has led 12 such trips. To help her relax, Dr Koh likes to cook and cross-stitch.