TFTW | Moving On (Philippians 3:8-16)
August 15, 2011
Starting today, we are pleased to introduce 'Thought For The Week'. We are privileged to have Dr Koh Siang Kiang, from the Singapore Bible College, contribute a weekly devotional message. As you meditate and reflect on God's Word, we hope that you will be encouraged, inspired, and blessed.

==================================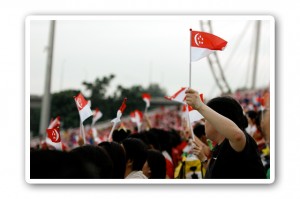 Last week, Singapore celebrated 46 years of nation building. This year's theme – Majulah*! The Singapore Spirit – called on citizens "to move forward together to bring Singapore to greater heights, to excel in our diverse fields of work and play, and to realize our fullest potential". (*Majulah is Malay for 'onward')
The island has come a long way. In spite of difficulties, it has moved forward and is not hindered by obstacles.
The concept of "obstacles" and "moving forward" is not foreign to biblical teaching. Paul referred to this in Philippians 3. He spoke of not looking at the loss but "press(ing) on toward the goal for the prize of the upward call of God…."
Paul in his pre-conversion days had attained high achievements, yet was a tyrant of the church. But when God took hold of his life, there was a dramatic turn around. The persecutor had turned preacher.
This was when he spoke of pressing on "to lay hold of that for which I was laid hold of by Christ Jesus." Also, he pressed on "toward the goal for the prize of the upward call of God in Christ Jesus."
Paul was willing to forget the past and press on so that "I may gain Christ…may be found in Him… that I may know Him and the power of His resurrection…that I may attain to the resurrection of the dead…"
Worldly goods, titles, physical limitations, success or shame should be things of the past once they are laid at the foot of the cross. Whether it's the checkered past of a nation, or the life of an individual, it is important not to be paralyzed by defeat.
What about you and your experiences? What might you be struggling with that hinders you from excelling for Jesus?
An unconfessed sin? Regret of an unaccomplished promise/deed? Turn to 1 John 1:9
Harboring some guilt or anger toward man, which really is to God? Turn to Genesis 4:7b
Feeling that you have been "short changed" in having to give up your worldly achievements for the sake of Christ? Turn to Matthew 6:19-24
Having a physical problem? Refer to Psalm 119:13-16
God's Word reminds you to forget what lies behind, and to reach forward to what lies ahead. Would you take time to reflect on "why have I been feeling so lousy lately?" Get your perspective right, and "move on" with Jesus.
Singapore has moved on. Paul moved on and was used tremendously by God to win many souls for the kingdom. Let it be written about you, that you too have moved on to know Him (more), and make Him known.
---
Thought For The Week (TFTW) is contributed by Dr Koh Siang Kiang, Associate Professor (Christian Education) at the Singapore Bible College (SBC). She graduated from SBC and Dallas Theological Seminary (DTS), USA, and has served in various ministries for more than 35 years, including teaching at DTS. Dr Koh has been with SBC for the last 10 years, and has a passion for people and teaching the Word of God. She also loves to make the Bible come alive by leading tours to the Holy Land, and has led 12 such trips. To help her relax, Dr Koh likes to cook and cross-stitch.