TFTW
December 20, 2011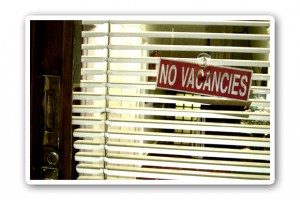 My ministry sometimes takes me to America. I usually make arrangements for accommodation before I travel. However, on one particular trip, while travelling from Washington to Los Angeles, my party and I decided to take a chance and go without any reservations. We wanted to see the various sights along the way, and did not want to be tied down by reservations that we had to fulfill.

Since it was summer, we had more time to enjoy ourselves while it was still bright, thanks to the longer daylight hours. We saw much and covered a lot of miles. At dusk we would begin to look for the nearest motel. Most of the time that wasn?t much of a problem.
One night, just before it got too dark, we decided we had better start looking for a place to rest for the night. But at every motel we were told the same thing — ?sorry there?s no room available.? We refused to give up, and after about a dozen tries and many more miles, we finally had a positive response.
Later, as we thought of those words, ?no vacancy?, we were reminded of what Joseph and Mary experienced 2000 years ago.
The couple had made a long journey for several days on foot, from Nazareth to
Bethlehem. They weren?t on vacation, but like hundreds of others, were there to
register for the Roman census. Since so many had converged in that small town, public accommodations were full.
Everywhere they asked, they were told ?there is no room at the inn.? At last, they were directed to a hillside cave which was used as a shelter for cattle. The Baby Jesus was born in a stable and laid in a manger.
There was no respectable place for the most important birth of all times.
2000 years later, many people, like overcrowded Bethlehem, still have no room for Jesus in their busy lives.
While you may have asked Jesus to be your Saviour, have you made room in your life for Him? How often do you invite Him to direct your decisions and control your conduct?
In the words of a much-loved hymn:
Have you any room for Jesus, He who bore your load of sin?
As He knocks and asks admission, will you ever let Him in?
Room for Jesus, King of glory! Hasten now, His word obey;
Swing your heart?s door widely open, bid Him enter while you may.
Search your heart this Christmas.
---
Thought For The Week (TFTW) is contributed by Dr Koh Siang Kiang, Associate Professor (Christian Education) at the Singapore Bible College (SBC). She graduated from SBC and Dallas Theological Seminary (DTS), USA, and has served in various ministries for more than 35 years, including teaching at DTS. Dr Koh has been with SBC for the last 10 years, and has a passion for people and teaching the Word of God. She also loves to make the Bible come alive by leading tours to the Holy Land, and has led 12 such trips. To help her relax, Dr Koh likes to cook and cross-stitch.