TFTW
May 1, 2012
"He replied, "Blessed rather are those who hear the word of God and obey it."" — Luke 11:28 (NIV)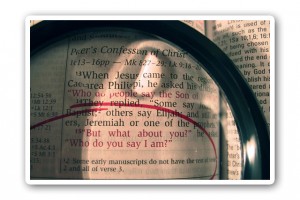 Recently I was having tea with a friend. She stopped in the midst of our conversation and exclaimed, "I just saw the perfectionist in you!"
"What do you mean?" I asked.
As I talked, my friend was observing me, unconsciously, straightening and rearranging things on the table.

I know I have annoying habits. I like things to be neatly lined and items returned to their original place. Unfortunately it doesn?t always work that way, because not everyone is like that. Some may not even remember or observe such details. Take our part-time house helper, for example. She has been helping us for more than 30 years, and she still does not return things to the same place and manner in which she found them!
Recently we had guests for several weeks. In helping in the kitchen, I noticed that they were not good observers. When they took things, they hardly ever placed them back where they originally found them.
My mind turned to what Scripture says concerning observation. We are constantly called to "observe", "give heed to" or "pay attention" to the truth or things of God. In colloquial terms, "we do something about it".
In learning how to study the Bible I was taught to use "Inductive Bible Study". You are probably familiar with the three parts: Observation, Interpretation and Application. Under "observation", one will have to look out for details. It is time consuming, and it can't be rushed.
I take the trouble to pay attention to things. When I am with friends, I watch them to detect what is going on. I scrutinize habits, so much so that I could even tell the doctors that my father had a heart problem, contrary to test results.
Jesus said, "Teaching them to observe all that I commanded you…" and "blessed are those who hear the Word of God, and observe it". It is quite clear that what Jesus wants us to do is not just to take a mental note of things. He wants us "to do something about it".
You may be reminded of some action in your life that needs correction. When you
change, we say you have "observed" or "obeyed". Similarly, we must do what the Bible teaches.
What are your observation powers like? I am not referring just to a keen eye for everyday details. That's great if it happens. Now that I've pointed this out you will begin to see things.
I want to encourage you to give attention to observing the Bible, God's Word. See what it says, and "do something about it". Observe and Obey.

---
Thought For The Week (TFTW) is contributed by Dr Koh Siang Kiang, Associate Professor (Christian Education) at the Singapore Bible College (SBC). She graduated from SBC and Dallas Theological Seminary (DTS), USA, and has served in various ministries for more than 35 years, including teaching at DTS. Dr Koh has been with SBC for the last 10 years, and has a passion for people and teaching the Word of God. She also loves to make the Bible come alive by leading tours to the Holy Land, and has led 12 such trips. To help her relax, Dr Koh likes to cook and cross-stitch.