TFTW
January 17, 2012
"But he said to me, "My grace is sufficient for you, for my power is made perfect in weakness." Therefore I will boast all the more gladly about my weaknesses, so that Christ?s power may rest on me. 10 That is why, for Christ?s sake, I delight in weaknesses, in insults, in hardships, in persecutions, in difficulties. For when I am weak, then I am strong." — 2 Cor 12:9-10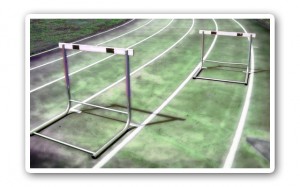 As part of her studies in Communication, my friend was asked to write and then speak on the subject "obstacles". As we discussed about different types of obstacles, she suddenly said, "Money is an obstacle."
"How so?", I asked.
"When one loses the original reason for needing money, it becomes a hindrance to growth."

As she spoke, the wheels of my mind turned. In life there are always obstacles. I thought back to the hurdles I had to jump over during my school sports meets. To win the race, I had to clear the obstacles placed in my path. Focusing on the goal gave me the determination to clear the hurdles, but when I had a nonchalant attitude, I often failed.
Obstacles in life need to be "cleared" with determination to please the Saviour. But carelessness and indifference can overshadow life, and victory is lost.
I thought of Fanny Crosby, the renowned hymn writer who lost her sight when she was six-weeks-old. People looked and thought of her as that ?poor, handicapped girl?. But she NEVER allowed that obstacle to prevent her growth. For the ninety years of her life, that so called "obstacle" drew her closer to God. She used her keen sense of hearing to write about 8,000 hymns for the Lord.
Then there was the apostle Paul. In writing to the Corinthians he spoke of an obstacle in his life — a thorn in the flesh. We are not told specifically what it was. Paul prayed three times for God to remove it, but He never did. Paul never allowed that thorn to be an obstacle. It kept him humble.
All of us face obstacles. It could be something seemingly necessary or a disability. Maybe even someone who stands in the way preventing you from progressing in your spiritual development?
The important thing is, are you consumed by it?
When Paul recorded his request for God to take away his thorn, he testified, "He has said to me, 'My grace is sufficient for you, for power is perfected in weakness.'"
Because of Paul?s inability in that one area of his life, God received greater glory. Crosby glorified God through her gift of hymn-writing despite her blindness. I am praying that my friend will not allow money to impede her spiritual progress.
What are obstacles in your life? How have you overcome them? Are you consumed by them? Remember and reflect on God?s promise of power perfected in weakness.
---
Thought For The Week (TFTW) is contributed by Dr Koh Siang Kiang, Associate Professor (Christian Education) at the Singapore Bible College (SBC). She graduated from SBC and Dallas Theological Seminary (DTS), USA, and has served in various ministries for more than 35 years, including teaching at DTS. Dr Koh has been with SBC for the last 10 years, and has a passion for people and teaching the Word of God. She also loves to make the Bible come alive by leading tours to the Holy Land, and has led 12 such trips. To help her relax, Dr Koh likes to cook and cross-stitch.