TFTW
April 24, 2012
"Your word is a lamp to my feet and a light for my path." — Psalm 119:105 (NIV)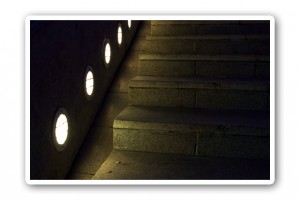 Over the years of my Christian walk, I have come to appreciate many spiritual songs. One of them has been particularly meaningful. It is not found in many typical hymnals, and I got acquainted with it when I was doing my theological studies.
At the beginning of my final year, I began to get a little anxious about my future ministry. Then I recalled this chorus which I learned in my first year.
"One step at a time, Only one step at a time.
This is the way the Lord will lead you, One step at a time.
Take that one step carefully; Walk that one step prayerfully.
This is the way of victory. One step at a time."
Each time I sing this I am reminded that God's Word "is a lamp to my feet, and a light to my path."
Sometimes it is difficult for us city folks to understand the imageries of lamp and light since our streets are always bright. But during a mission trip in the jungles of Sarawak, the experience of walking in the dark with a lamp opened my city eyes to appreciate that teaching.
We had to use the outhouse in the middle of the night. The whole area was pitch dark. We were given a lamp. And that lamp did not shine beyond the next step. It lit the path enough for me to take one step at a time.
God guides me through His Word. And He doesn't show me what awaits me beyond today. He wants me to walk as He guides me step-by-step. Over the years I have enjoyed watching Him unfold my life and His call, as I let Him lead. And He has never failed.
That anxious beginning of my final year at Bible School is history. Years have passed. I have seen how God leads me as I trust and obey Him. And I continue to sing:
"Jesus, I would walk with Thee, One step at a time.
In Thy gracious company, One step at a time.
Just to know that Thou art near, And Thy voice so soft and clear,
bids me go and never fear, One step at a time."
How have you been following God's leading? What or who is it that is guiding you and your decisions? It is my prayer that you too will allow the words of the final stanza of the hymn to be true in your lives:
"I will gladly walk today One step at a time.
As Thy Word reveals the way, One step at a time.
Though I may not understand all the way Thy heart has planned,
Thou wilt hold me by the hand, One step at a time."
---
Thought For The Week (TFTW) is contributed by Dr Koh Siang Kiang, Associate Professor (Christian Education) at the Singapore Bible College (SBC). She graduated from SBC and Dallas Theological Seminary (DTS), USA, and has served in various ministries for more than 35 years, including teaching at DTS. Dr Koh has been with SBC for the last 10 years, and has a passion for people and teaching the Word of God. She also loves to make the Bible come alive by leading tours to the Holy Land, and has led 12 such trips. To help her relax, Dr Koh likes to cook and cross-stitch.