TFTW | Peace In The Midst Of Turmoil (John 14:1)
September 13, 2011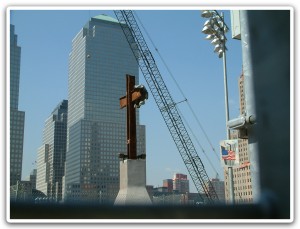 Jesus' disciples walked and talked with Him for three-and-a-half years. He taught them many things.
He instructed them about His death, but they did not believe. In Passion week, teachings of His death became more intense. He even predicted the betrayal. Sensing their fear, Jesus comforted them with these words, "Do not let your heart be troubled…"

Fear is a real response. When Jesus was arrested by the multitude, the disciples dispersed. Peter, one of his closest disciples, denied Him as He had predicted. After the crucifixion they huddled fearfully in the upper room.
Over the television, like millions around the world, I watched the scenes of two planes crashing into the twin towers in New York City. Many were killed. That disaster plagued the minds of people around the world.
I was then teaching in Dallas. I had stepped out of the classroom and caught sight of the scenes playing on TV. My heart skipped a beat, and my mind raced ahead of real time. But the Lord reminded me of these words "Do not let your heart be troubled…"
Before the "dust could settle," three days after 9/11, I received a call from my cousin in Canada asking if I was sitting down. What a strange question, I thought. She then proceeded to tell me that my mother, who was visiting them, had a massive stroke. My heart skipped a beat. My mind raced ahead. And again, the same words, "Do not let your heart be troubled" brought comfort to my heart.
Almost daily, we hear reports of bombings, shootings, rioting or natural disasters in many parts of the world. Victims and the public cowed in fear. But it's not just the major catastrophes that disturb people. There are the daily personal, family and work issues that bring about anxiety.
When I hear Jesus' words, "Do not let your heart by troubled…" it always calms my soul. Jesus said He was giving "peace…not as the world gives." What did He mean?
Was this peace that so called Pax Romana – the "peace" they were experiencing because they were exhausted from fighting?
Jesus' concept of peace refers more to "harmony." Like how the different keys of a piano, when played properly, harmonize. Things around may be chaotic, but He harmonizes our hearts.
"Let not your heart be troubled…" are words not just to the disciples, but very much for us.
What is troubling you now, that you need to experience the peace that only Jesus can give?
There is a hymn that goes "Are you weary, are you heavy hearted? Tell it to Jesus…Are you grieving over joys departed? Tell it to Jesus alone…He is a friend that's well-known. You've no other such a friend or brother, tell it to Jesus alone."
Why not stop all that you are doing right now, and tell it all to Jesus? He is our burden bearer.
---
Thought For The Week (TFTW) is contributed by Dr Koh Siang Kiang, Associate Professor (Christian Education) at the Singapore Bible College (SBC). She graduated from SBC and Dallas Theological Seminary (DTS), USA, and has served in various ministries for more than 35 years, including teaching at DTS. Dr Koh has been with SBC for the last 10 years, and has a passion for people and teaching the Word of God. She also loves to make the Bible come alive by leading tours to the Holy Land, and has led 12 such trips. To help her relax, Dr Koh likes to cook and cross-stitch.