TFTW
September 20, 2011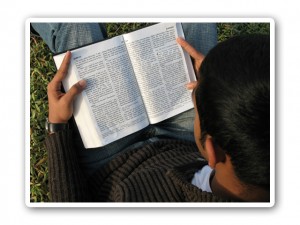 Ten years ago, last week, my mother was ushered into the presence of God. I recalled her spiritual journey which began later in life. For 20 years, I prayed and shared the good news. Nothing seemed to happen.
One day she said she wanted to go to church. She had not believed then. But, week after week, she would listen to the Word being preached. She also attended Sunday School and the Women?s Fellowship. After about three months, on her own initiative, she told the pastor about her conviction and he taught her to say the sinner?s prayer. Less than a year later she was baptized.

I have a neighbour who was an unbeliever. When she was struggling through some issues, she got hold of a Bible, read it and turned to the Lord.
For years, a friend had been struggling with a disorder. No help was found until she trusted the Lord. That journey began when she started to read the Bible. The Word convicted her of sin. After she confessed and developed a personal walk with God, she began to notice changes.
What brought about these transformations? What caused my mother to change her mind?
I believe it is as Paul taught in Romans 10:17 ? ?Faith comes by hearing, and hearing the Word of God.? The psalmist declared, the Word is ?a lamp to my feet, and a light to my path.? God?s Word guides and leads the way we should walk.
God, through the prophet Jeremiah, says His Word ?is like fire?like a hammer which shatters the rock?. Like fire, God?s Word burns? and thus convicts the hearer. Even if the hearer has a heart like rock, God?s Word, like a hammer will shatter that rock.
Jesus, in John 17, declares that God?s Word is Truth. When truth is revealed, it will uncover lies. Convicted souls will have to face the consequences.
Also amongst its many descriptions, Scripture is also described in Hebrews 4:12 as ?living and active and sharper than any two-edged sword, and piercing?able to judge the thoughts and?heart.?
The writer to the Hebrews believed in the power of the Word. These are strong adjectives ? living, active, sharper, and piercing. When the Holy Spirit convicts the reader to a response, faith is manifested.
What methods have you used to win souls for the Kingdom? There is none as powerful and important as teaching and preaching the Word. In doing so, you acknowledge two things:
1) that God promises faith will be developed;
2) that conversion and growth is the Work of God.
In your particular ministry, the Word is aired everyday across many continents. Let?s pray for the ones who hear God?s Word. Faith comes by hearing, and hearing the Word of God.
Someone was instrumental in sharing the Word to my late mother, my neighbour and my friend. They heard the Word of God and were convicted. Their lives were changed for the better.
Sometimes you might be discouraged not knowing the results of your sharing God?s Word. Don't be.
Remember, you may share the Word, but God is the one who convicts.
---
Thought For The Week (TFTW) is contributed by Dr Koh Siang Kiang, Associate Professor (Christian Education) at the Singapore Bible College (SBC). She graduated from SBC and Dallas Theological Seminary (DTS), USA, and has served in various ministries for more than 35 years, including teaching at DTS. Dr Koh has been with SBC for the last 10 years, and has a passion for people and teaching the Word of God. She also loves to make the Bible come alive by leading tours to the Holy Land, and has led 12 such trips. To help her relax, Dr Koh likes to cook and cross-stitch.