TFTW | Prince of Peace
December 11, 2012
"For a child will be born to us, a son will be given to us;
And the government will rest on His shoulders;
And His name will be called Wonderful Counselor, Mighty God,
Eternal Father, Prince of Peace." — Isaiah 9:6 (NASB)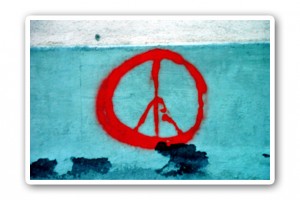 "Hark the herald angels sing
Glory to the newborn King!
Peace on earth and mercy mild
God and sinners reconciled,
Joyful, all ye nations rise,
Join the triumph of the skies.
With the angelic host proclaim:
Christ is born in Bethlehem!
Hark! The herald angels sing
Glory to the newborn King!"
At Christmas, you will hear this joyous hymn played in many malls. People will hear of this message of peace. But will there be real peace?
At the time of the announcement, there was considerable peace under the rule of Rome. Called Pax Romana, the people, exhausted from fighting, submitted themselves under the reign of Caesar.
In His earthly ministry, Jesus brought the message of peace but there was no evidence that all the people welcomed it. Then, just before Jesus left this earth, He spoke and taught His disciples, "Peace I leave with you; My peace I give to you; not as the world gives, do I give to you…." (John 14:27)
The twelve disciples and His close followers had thought that Jesus would be their answer for the peace they so desperately sought. But He had told them He was going away.
The disciples did not fully understand what He was teaching. He promised them that though externally there still would be turmoil, they would enjoy peace within. After His ascension they understood.
"For a child will be born to us…And His Name will be called…Prince of Peace"
This verse speaks of Jesus who came as a baby in a manger. He fulfills God's promise of Peace to us. Your surrounding and circumstances may be upsetting, but you can experience "…the peace of God, which surpasses all comprehension,…" (Philippians 4:7)
SIN had separated man from God, but that same Jesus who was born of the virgin Mary, died on the cross for our sin. By His blood He made peace with the Father on our behalf, and that peace has been bequeathed to us. His death and resurrection took the curse of sin away. We who acknowledge our sin and Jesus' saving grace know inner peace that only God can give.
But the world is still not at peace. From world leaders to beauty pageant contestants, many have attempted to bring about world peace, but any apparent success is only temporary. True peace will come only when the Prince of Peace returns to rule and reign.
Now, let's talk about that which is most important. Who is Jesus to you? Have you experienced that peace He talked about? If your answer is positive, you can sing:
"Hail the heav'n-born Prince of Peace!
Hail the Son of Righteousness!
Light and life to all He brings
Ris'n with healing in His wings
Mild He lays His glory by
Born that man no more may die
Born to raise the sons of earth
Born to give them second birth."
But if you cannot give an affirmative answer, what is it that is stopping you right now from asking Jesus to be your Saviour, so that you can have His peace?

---
Thought For The Week (TFTW) is contributed by Dr Koh Siang Kiang, Associate Professor (Christian Education) at the Singapore Bible College (SBC). She graduated from SBC and Dallas Theological Seminary (DTS), USA, and has served in various ministries for more than 35 years, including teaching at DTS. Dr Koh has been with SBC for the last 10 years, and has a passion for people and teaching the Word of God. She also loves to make the Bible come alive by leading tours to the Holy Land, and has led 12 such trips. To help her relax, Dr Koh likes to cook and cross-stitch.