TFTW | Rubbed Off
September 4, 2012
"Then he prayed, "O Lord, God of my master Abraham, give me success today, and show kindness to my master Abraham." — Genesis 24:12 (NASB)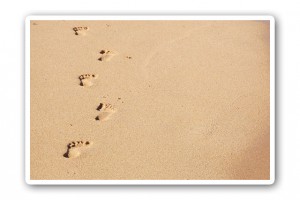 Several weeks ago, I touched on the "cloud of witnesses" in the 30 July edition of TFTW titled 'Running The Race'.
These are people of example who have gone before us. In the same way, we need to be living examples for this generation and the next.
I read about a man who was trying to kick his drinking habit. Early one morning, on his usual trip to the pub, he heard small footsteps behind him. He turned around to find his four-year-old boy following him.
"Son, what are you doing?" he asked.
"Dad, I want to do what you do. I want to go where you go," replied the boy.
Stunned, the man turned around. He took his son home and never entered a pub again.
That father had not realised the impact his life was having on his young child. For us, our influence must also be seen and felt by family, neighbours and colleagues.
The Old Testament tells of a servant named Eliezer. There were no records of his faith in God. When his master asked him to do a task he obeyed. It was how he finally handled the situation that showed us how the life and faith of his master had "rubbed off" onto him.
The power of a living witness is so strong! It can either destroy or build up a person. The alcoholic father could have ruined his son's life.
In what way did Eliezer's master influence him? Two of Eliezer's prayers tell a story of his faith. The first, "…O Lord, the God of my master Abraham, please grant me success today, and show lovingkindness to my master Abraham." and the second "…Blessed be the Lord, the God of my master Abraham, who has not forsaken His loving kindness and His truth toward my master; as for me, the Lord has guided me…"
You may by now recognise that this is the story of the search for a wife for Isaac. Eliezer had been commissioned to go back to Abraham's country to find his son a wife. He had no idea how to go about it, but he agreed and went.
Abraham had "believed in the Lord, and God reckoned it to him as righteousness." Eliezer had observed his master trust God in previous situations.
So during his hour of need, in a foreign land, Eliezer prayed.
The influence of Abraham over the years had "rubbed off" onto Eliezer. The servant embraced the relationship with God that Abraham had modeled.
He was personally able to praise and to call on the God of his master.
What about you? In what way has your life rubbed off onto someone else for good? We don't want the kind of negative example shown by the father in the illustration I gave. Rather, would someone, seeing you, be able to call on your God like Eliezer did? Ask God to help you be a positive witness wherever He puts you.

---
Thought For The Week (TFTW) is contributed by Dr Koh Siang Kiang, Associate Professor (Christian Education) at the Singapore Bible College (SBC). She graduated from SBC and Dallas Theological Seminary (DTS), USA, and has served in various ministries for more than 35 years, including teaching at DTS. Dr Koh has been with SBC for the last 10 years, and has a passion for people and teaching the Word of God. She also loves to make the Bible come alive by leading tours to the Holy Land, and has led 12 such trips. To help her relax, Dr Koh likes to cook and cross-stitch.