TFTW
July 31, 2012
"Therefore, since we are surrounded by such a great cloud of witnesses, let us throw off everything that hinders and the sin that so easily entangles, and let us run with perseverance the race marked out for us. Let us fix our eyes on Jesus, the author and perfecter of our faith, who for the joy set before him endured the cross, scorning its shame, and sat down at the right hand of the throne of God." — Hebrews 12:1-2 (NIV)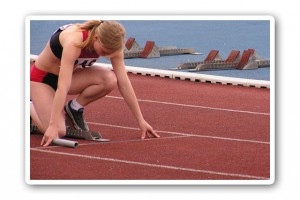 I enjoy my brisk walks every morning.
Occasionally, I feel like quitting earlier, but I know that I must persevere. It helps when I keep my eyes on the goal…3km away. It also helps when a friend walks alongside me.
My mind went back to my track and field days. We had to practice hard for the competitions. Perseverance, endurance and self-discipline were necessary. Whether it was during practice, the heats or at the finals, one other thing kept us going — the spectators in the stands. People who were interested in sports, or former athletes cheered us on. The latter especially knew how we felt. Their shouts of encouragement seemed to tell us "Keep going! We made it…so can you!"
I thought of the spiritual race mentioned in Hebrews 12:1. The writer said, "Therefore, since we have so great a cloud of witnesses surrounding us…let us run with endurance the race that is set before us."
Who are in this "cloud of witnesses"? If we look at the text, it has reference to the previous chapter. These are people who struggled and learned by faith. They had lived and triumphed in faith, and now are our witnesses.
The word "endurance" on the one hand suggests a long race. On the other, it points to the need for stamina.
While you are reading this, in London, people from 205 nations are gathered for the Olympic Games. Thousands of competitors are there participating in more than 300 events for the next two weeks. With hundreds of thousands of people as witnesses cheering them on, athletes are vying for prizes. They must work at it ? persevere for the goal. It's tiring. It's intensive. Every bit of encouragement helps.
While they run the race for a gold, silver or bronze, the writer to the Hebrews is referring to a spiritual race. It's a race that we are running for eternity. But it's not in the future. It's NOW. It is like a marathon. It's long and challenging. We must press on.
The verse also reminds "…(let) us also lay aside every encumbrance, and the sin which so easily entangles us."
As an athlete I mustn't be distracted by anything. Also, I had to give up certain food because it deterred me from doing my best. The clothes I wore had to be appropriate too, so as not to stumble me. I must also wear the right shoes.
When you watch the Olympic games, you will see many spectators cheering the competitors on. You will find the participants fit in both body and attitude.
How are you doing in the race? Take encouragement from the "cloud of witnesses". If you are lagging behind in the race, might there be some sin that has entangled you? Ask God for strength to help you "lay aside every encumbrance" so that you can run well.

---
Thought For The Week (TFTW) is contributed by Dr Koh Siang Kiang, Associate Professor (Christian Education) at the Singapore Bible College (SBC). She graduated from SBC and Dallas Theological Seminary (DTS), USA, and has served in various ministries for more than 35 years, including teaching at DTS. Dr Koh has been with SBC for the last 10 years, and has a passion for people and teaching the Word of God. She also loves to make the Bible come alive by leading tours to the Holy Land, and has led 12 such trips. To help her relax, Dr Koh likes to cook and cross-stitch.