TFTW
May 22, 2012
Bible Reading:
John 14:16-17, 26; 16:5-11; Acts 2:42-47
"And I will ask the Father, and he will give you another advocate to help you and be with you forever ? the Spirit of truth. The world cannot accept him, because it neither sees him nor knows him. But you know him, for he lives with you and will be in you… But the Advocate, the Holy Spirit, whom the Father will send in my name, will teach you all things and will remind you of everything I have said to you."
— John 14:16-17, 26 (NIV)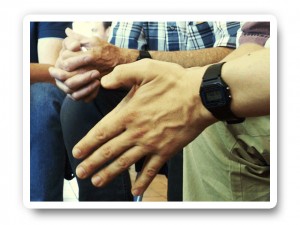 Each time I welcome a new group of students whom I am to advise in pastoral care, my first effort is to get to know them.? To help me, I ask them to draw their life map. That is? also one way for them to track what God has been doing from the beginning of their lives.
I ask them to draw something that represents three low points, as well as three high points in their lives. Then I have them to think of three significant persons who have influenced ?them.
Usually, at our Pastoral Care retreat, we schedule some time for each to share his/her life map with the rest of the group.? ?Many have expressed that this exercise has helped them in their spiritual journey, as well as getting to understand others.
One of the parts I most enjoy hearing about is the significant people in their lives. In one particular student I even see how he emulated one of those significant persons in his life.
We all have significant people who have made an impact on us: people who have helped us become who we are. ?In turn, you may become a significant person for someone. That is great. We thank God for each life which we have touched.
However, Scripture teaches of the most Significant Person in our life. ?When we trusted Jesus as our Saviour, and invited Him into our lives this ONE came to dwell in us.
When Jesus was preparing His disciples for His departure from earth, He told them ?? He (the Father) will give you another Helper, and He may be with you forever; ?you know Him because He abides with you, and will be with you.?
Amongst other roles, the Helper, who is the Holy Spirit, ??will teach you all things, and bring to your remembrance all that I said to you.? He will also, ?convict the world concerning sin.? And, ?He will guide you into all the truth??
What Jesus declared He would do was manifested on the Day of Pentecost.? The Holy Spirit helped Peter stand up to preach in the midst of a great crowd. That message of repentance saw 3000 saved. Less than 54 days earlier, this same Peter had denied Jesus three times when he was asked if he was a companion of Jesus.
As the apostles continued teaching the Word, we read about the work of the Holy Spirit in the lives of the hearers. ??they began selling their property and possessions, and were sharing them with all, as anyone might have need?And the Lord was adding to their number day by day those who were being saved.?
You, ??having also believed, you were sealed in Him with the Holy Spirit of promise?.? Make this personal! How have you shown the Holy Spirit?s work in your life? ?Like the significant people about whom I asked my students to write and share, take some time to list the Work this Significant Person (the Holy Spirit) has done in your life.
---
Thought For The Week (TFTW) is contributed by Dr Koh Siang Kiang, Associate Professor (Christian Education) at the Singapore Bible College (SBC). She graduated from SBC and Dallas Theological Seminary (DTS), USA, and has served in various ministries for more than 35 years, including teaching at DTS. Dr Koh has been with SBC for the last 10 years, and has a passion for people and teaching the Word of God. She also loves to make the Bible come alive by leading tours to the Holy Land, and has led 12 such trips. To help her relax, Dr Koh likes to cook and cross-stitch.