TFTW
November 8, 2011
"For what I received I passed on to you as of first importance: that Christ died for our sins according to the Scriptures, that he was buried, that he was raised on the third day according to the Scriptures…" — 1 Cor 15:3-4 (NIV)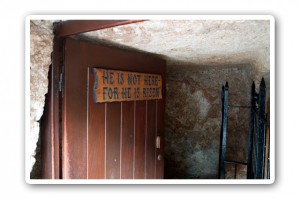 This month marks my fortieth year as a child of God. Prior to that, I had tried desperately to look for an answer for the vacuum in my heart. Religion, studies, sports and pleasure were only temporary answers for my teenage heart. Soon, those too wore off.
Then someone shared the gospel: Christ loves me and died for my sins. He was buried and raised on the third day. How simple. It was my sins that was the problem. And, the solution was so powerful ? when I accept, I am saved.

Since then, over and over again, I?ve had the privilege of sharing this same simple message. And that powerful message has touched many who have opened their hearts to Jesus. What joy it is when both young and old come to experience the same blessed life.
Paul calls the gospel ?the power of God for salvation to everyone who believes.? But first they must hear. I heard it through a friend and through an evangelist.
Who shared the simple but powerful message of the gospel with you?
A couple of weeks ago, I was the special guest at a ladies Bible study gathering. At the end of the lesson, the leader asked a lady about her spiritual journey. The leader grilled her in every way to ensure she knew her spiritual status. This lady claimed that she is a Christian because she has been in the church for many years. She even had a baptism certificate to prove she?s a Christian! Yet, all throughout the conversation, she did not mention sin and salvation.
Scripture reminds us that ?all have sinned?, but it also gives the hope that the ?free gift of God is eternal life in Jesus.?
As the refrain of the hymn reminds us:
Jesus paid it all,
All to Him I owe;
Sin had left a crimson stain,
He washed it white as snow.
A verse of the same hymn goes:
Lord, now indeed I find,
Thy power and Thine alone,
Can change the leper?s spots,
And melt the heart of stone.
The simple message wrapped in the power of the Lord, is what changes lives. And I pray that the lady will confess with her mouth that Jesus is Lord. Only when she admits her personal sin and asks Jesus to be her Savior, will she be saved.
How has that simple but powerful message impacted your own relationship with God? How has this message affected your witness for Jesus?
---
Thought For The Week (TFTW) is contributed by Dr Koh Siang Kiang, Associate Professor (Christian Education) at the Singapore Bible College (SBC). She graduated from SBC and Dallas Theological Seminary (DTS), USA, and has served in various ministries for more than 35 years, including teaching at DTS. Dr Koh has been with SBC for the last 10 years, and has a passion for people and teaching the Word of God. She also loves to make the Bible come alive by leading tours to the Holy Land, and has led 12 such trips. To help her relax, Dr Koh likes to cook and cross-stitch.