TFTW
April 3, 2012
"He said to them, 'Go into all the world and preach the good news to all creation…'" — Mark 16:15 (NIV)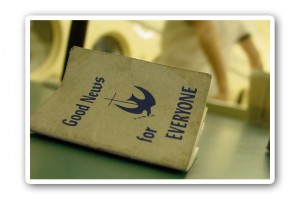 As a little tyke my ears were tuned to two words, "good news". It could be anything from "you may have a piece of candy today", to "we are going on a holiday".
I would run to anyone in sight, to tell them the good news. It didn't matter how insignificant that good news may have seemed. It was worth sharing because I was excited about it.

Yes, the degree of expectation did increase with age. Over the years, I have grown to realise that good news doesn't always come in the form of things. It may not be at all tangible. From finding a good discount for an item, a health discovery or a holiday package, to a job promotion…these are all exciting and must be shared.
As an adult I have often received good news, including awards and achievements. It is exhilarating, to say the least. It is worth sharing so others can celebrate with me.
But the best news of all, was when I heard "…the wages of sin is death, but the free gift of God is eternal life in Christ Jesus our Lord." (Romans 6:23)
The Spirit of God convicted me of SIN and of my eternal destiny as a sinner. As an adolescent, I confessed my sin and invited Jesus into my heart. I not only felt peace but also constant assurance of His love. The excitement could not be contained.
I went home and shared the good news right away with the people I loved most — my family. It took another 17 years to see the fruits of that testimony.
After His resurrection, Jesus commissioned His disciples to "Go into all the world and preach the gospel to all creation."
He is speaking to us to do likewise. Wherever you are in the world you have a responsibility to tell others the Good News.
What is that Good News? Paul spelt it out very succinctly. "…Christ died for our sins according to the Scriptures…He was buried, and He was raised on the third day, according to the Scriptures…" (1 Corinthians 15:3-4)
This IS the Good News! We must be convicted of sin, then His death and burial will become significant. Don't fail to stress the resurrection.
"Death is swallowed up in victory. O death, where is your victory? O death, where is your sting?"
We serve a risen Saviour! Let?s proclaim it!
As the hymn goes:
"I love to tell the story of Jesus and His love
Because I know 'tis true;
it satisfies my longings, as nothing else can do.
I love to tell the story, it did so much for me;
And that is just the reason I tell it now to thee."
The Good News "'tis pleasant to repeat what seems, each time I tell it, more wonderfully sweet."
After many years of telling the Good News to my friends and family, one would think that all have heard. But as the hymn continues, "…for some have never heard the message of salvation from God's own Holy Word."
Last year, I met some old classmates after many years. Some had not heard the message of Jesus' love. Just as I was excited about the good news I received as a young child, I could not wait to tell my friends this wonderful news which pertains to their eternal state.
What is your response to telling the story of the Good News? How excited are you to tell it to everyone?
Let the whole world know that Jesus Christ died, was buried and rose again!
I wonder who will be the first person to hear from you after you read this?

---
Thought For The Week (TFTW) is contributed by Dr Koh Siang Kiang, Associate Professor (Christian Education) at the Singapore Bible College (SBC). She graduated from SBC and Dallas Theological Seminary (DTS), USA, and has served in various ministries for more than 35 years, including teaching at DTS. Dr Koh has been with SBC for the last 10 years, and has a passion for people and teaching the Word of God. She also loves to make the Bible come alive by leading tours to the Holy Land, and has led 12 such trips. To help her relax, Dr Koh likes to cook and cross-stitch.