TFTW | The First Carol
November 27, 2012
"Glory to God in the highest, and on earth peace among men with whom He is pleased." — Luke 2:14 (NASB)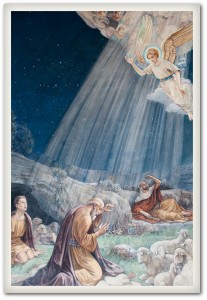 "O Come all ye faithful, joyful and triumphant…Come and behold Him born the King of angels, O Come let us adore Him,… Christ the Lord!"
I love Christmas carols! In some countries, they play carols from the beginning of September. In Singapore, the malls began playing them about two weeks ago, but I never stopped playing carols!
There is something very wonderful about listening to Christmas carols. The tunes are both soothing and upbeat, and the words bring love, joy, hope and peace!
Listen to the first Christmas carol: "Glory to God in the highest, And on earth peace among men with whom He is pleased."
It was sung the night Christ was born. Angels suddenly appeared before shepherds who were out "keeping watch over their flock by night." They were frightened by that sudden appearance. The angels said to them, "Do not be afraid; for behold, I bring you good news of a great joy …for today…there has been born for you a Saviour, who is Christ the Lord…."
At that time there was some kind of peace with Rome in command. It was what is called "Pax Romana" (Roman peace). People were weary from fighting in wars and were resigned to the control of Rome, but there wasn't true peace. And there will not be until the Prince of Peace comes to rule and reign.
The Prince of Peace, Messiah was born in Bethlehem. Not all recognised Him. But those who do know Him as Saviour, have peace in their hearts. But in the world there is still no peace.
We who have known His peace can sing the angels' words. But there are many who cannot truthfully sing that first carol.
Carols will be played and sung in all churches and in public places this Christmas. Many will hear the message of love and peace.
What does that first Christmas carol mean to you? What about your loved ones and friends? Make a list of those you must witness to. Think of how you might share the message so that one day they too can sing "Oh, come, let us adore him, Christ the Lord."

---
Thought For The Week (TFTW) is contributed by Dr Koh Siang Kiang, Associate Professor (Christian Education) at the Singapore Bible College (SBC). She graduated from SBC and Dallas Theological Seminary (DTS), USA, and has served in various ministries for more than 35 years, including teaching at DTS. Dr Koh has been with SBC for the last 10 years, and has a passion for people and teaching the Word of God. She also loves to make the Bible come alive by leading tours to the Holy Land, and has led 12 such trips. To help her relax, Dr Koh likes to cook and cross-stitch.