TFTW
March 6, 2012
"But Mary treasured up all these things and pondered them in her heart." — Luke 2:19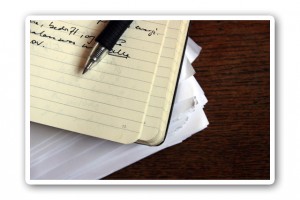 I was thinking about a conversation I had with my 15-year-old niece last Christmas. I commented that I was having difficulty knowing what to get for her. She said, "You will never go wrong buying me notebooks."
"Why?" I asked. I knew she already had many notebooks.
"I write down my thoughts so that I can go back and remember the things that happened. Some of them are so precious," she replied.

It is so true. There are many things which happen in our lives, that we ought to treasure. We especially ought to value the ones related to how God?s Word speaks or works in our lives.
I thought of another young woman who pondered and treasured truths from God. Her reflections happened before, and at different stages of, her motherhood.
The young woman was none other than Mary, the mother of Jesus.
As a young virgin girl, she was visited by an angel who greeted her as "favored one" and "the Lord is with you". Mary was "?greatly troubled at this statement and kept pondering what kind of statement this might be."
The "simplistic" country girl was wondering why she deserved such an angelic visitation.
From that first visit, to the miraculous conception and the birth of Jesus, many things would cause her to go back and ponder those words.
After the birth of the promised Child, shepherds came and related their experience. While others "wondered at the things", Mary "treasured up all these things, pondering them in her heart". The events that night were a whirlwind of activities. And now, hours later, the testimony of the shepherds brought about confirmation of the birth.
As Jesus grew, not much was recorded of the growing up years. But at 12 years of age, after a customary visit to the temple in Jerusalem, there was another incident for Mary to ponder.
We read that after a feast, Jesus' parents had left to return home. But after a day's journey, they discovered he was not with them. They only found him after three days, in the temple.
The anxious parents were astonished and chided him, to which he answered, "Did you not know that I had to be in My Father?s house?"
We read that "His mother treasured all these things in her heart."
Be it the encounter with the angel, the birth, the subsequent visit by shepherds, or Jesus being in His Father?s house. Each of these situations held much for a mother to think about, especially when it has to do with revelations and truths from God.
What are some special encounters of God in your life? What do you do after each event? In a fast-paced society we tend to forget them, but don?t let encounters with God be forgotten. Think about them and how they have impacted you.
Mary pondered those thoughts. She treasured them in her heart. My niece writes her thoughts to help her remember. Perhaps you can get a notebook or use your digital device to record yours. This is to help you recall God's truth, and look back at how he has been working in your life.

---
Thought For The Week (TFTW) is contributed by Dr Koh Siang Kiang, Associate Professor (Christian Education) at the Singapore Bible College (SBC). She graduated from SBC and Dallas Theological Seminary (DTS), USA, and has served in various ministries for more than 35 years, including teaching at DTS. Dr Koh has been with SBC for the last 10 years, and has a passion for people and teaching the Word of God. She also loves to make the Bible come alive by leading tours to the Holy Land, and has led 12 such trips. To help her relax, Dr Koh likes to cook and cross-stitch.