Blessing Cambodian Children at Christmas
January 19, 2012
CAMBODIA — Last December, children from three Cambodian villages had a special Christmas.
A cell group from Bethesda Frankel Estate Church went on a week-long mission trip to Cambodia, and worked with TWR-Cambodia to bless about 850 children and 120 adults in villages at Kean Svay, Rohal and Me Chrey.
At each village, the children — who are all listeners of Happy Children's Garden — were divided into groups, and the team assisted the TWR-Cambodia staff by being group "parents" during the ministry sessions. They joined in the games, and helped ensure that the children took part in the various activities organised.
One of the main activities that the team did, was to take an instant photo of each child, so that each one of them will have a photo of themselves.
"Taking photos is something we usually take for granted," said one of the team members. "When we found out during our discussions with TWR-Cambodia that the children have never had their photo taken, and do not even have a photo of themselves, we felt it would be something special for them."
Together with the photo, each child was also given a Christmas card hand-made by the team. Each card contained the lyrics of a Khmer song which told the story of Jesus' birth, and also had a space in which the children could attach their photo. The idea was that, as the children read the lyrics and looked at their photo below it, they will know and realize that they are special, and that God loves each one of them.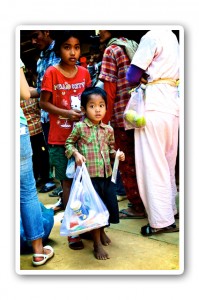 Prior to the trip, the team also raised funds to bless each child with a gift pack and a special meal of Cambodian chicken rice. Each gift pack contained a pencil, notebook, and other daily necessities.
"We were told that most of the children are undernourished, and usually do not have meat as it is quite costly," said another team member. "We wanted to do something for them, and decided to bless each child with a meal of chicken and rice as a special treat. The cans of soda were a bonus!"
Charia You, TWR-Cambodia's Children's Ministry Coordinator, said, "We are so blessed to have the cell group from Singapore visit us. We first talked about it in 2010, but only began seriously planning in June 2011. We communicated by email to plan the schedule and make arrangements between our team and the cell group in Singapore."
The children were not the only ones who were blessed. After visiting the ministry in Cambodia, a few of the team members shared their thoughts.
"It was amazing to see the work and impact of TWR on the lives of their listeners. To see the needs of the people and yet feel the joy that they have made me realise something important which is usually missing in the busyness of Singaporean living — contentment in any circumstance. "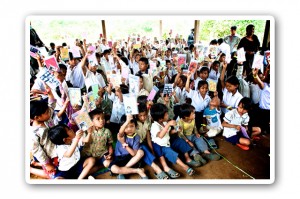 "At each village, I was struck by the needs of the people. While we gave them physical food, God reminded me that what they needed most was spiritual food. In him, they can have eternal hope and share in His promise of a place in His kingdom, regardless of circumstances they are now in."
"I chose to go on this trip to experience what God was doing in another part of the world, and try to contribute in some way. The Lord is indeed doing a mighty work in Cambodia. the faithfulness demonstrated by the local Christians is a reflection of God's faithfulness."
Drop us a line, to find out more about how you or your church can partner our country teams!