Let the Little Children Come to Him
September 22, 2011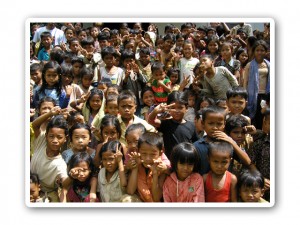 CAMBODIA — The TWR-Cambodia children?s ministry team went on a field trip recently to visit several villages in Cambodia.
The ministry had received a request from a local pastor, for the TWR-Cambodia team to visit the village children. This pastor oversees seven churches, and the children who attend these churches have just started listening to the Happy Children?s Garden program.
Upon arrival at one of the villages, the team found that there were already more than 200 children eagerly awaiting their arrival! It was a challenge trying to find enough space for everyone to be seated, but they finally managed.
It was a blessing indeed that the principal of the local primary school had given the children half the day off from school, so that they could attend the session with the TWR-Cambodia staff. The principal and five teachers from the school also turned up to help out.
At the session, the children sang songs, learnt Bible verses, and listened to Bible stories. The children also enjoyed singing a song with fun actions that taught them good hygiene practices.
The face-to-face meeting with the presenter of the Happy Children?s Garden was one of the highlights that the children looked forward to.
Thy, one of the listeners of Happy Children?s Garden expressed his love of the program. He said,
?I love this program because it helps me know more about Jesus and His love. I am so happy to be able to hear Bible stories and also learn about health lessons through the program. I have learnt about the different types of nutritious food that I should take, as well as the importance of good hygiene. I have been applying what I have learnt.?
At the end of the program, each child received a poster of the Happy Children?s Garden program, a coloring book, a journal, a pen, and a pack of noodles.
It was a fruitful visit and the team had a good time with the children, the school principal and teachers from the school, as well as the listener group coordinator in the village.

Before they departed, the TWR-Cambodia team also gave another radio to the village, so that more people can listen to the gospel.
Praise the Lord for his blessings upon the Happy Children?s Garden program and the village children. Pray that more of them will come to Him!