Cambodia | Providing Spiritual and Physical Food
February 5, 2010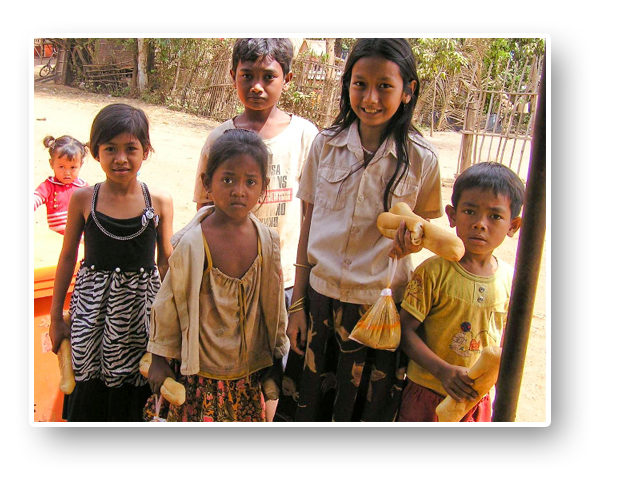 "My name is Phanit, and I am 10-years-old. I like to listen to TWR-Cambodia's children's program, Happy Children's Garden. I listen to the program together with the other children in my village. Today's story helped me to know about the all-powerful God, who can do everything. He hears and sees everything. Also, thank you for the story of Zaccheus. This story showed me that I need to be kind to others, to not be greedy and to show love one to another. Before I listened to this story, I always wanted things for myself and did not want to share with others. Now I know that when I believe in Jesus, He wants me to share with others. Thank you so much."
In addition to broadcasts, TWR-Cambodia also sends follow-up teams to villages across Cambodia. One special location the team visited is a garbage dump, where they had the opportunity to teach and provide food to the people – both children and adults alike – who call the garbage dump their home.
One of TWR-Cambodia's team members reports:
"Our team went to the Jehovah-Jireh Center at the garbage dump to teach and provide food for a total of 157 children and 64 adults. What a blessing to have a chance to tell the children about Jesus. We told them the story about Jesus washing His disciples' feet. The children were so happy to listen to the story and to sing songs of praise to God. Their tiny homes behind the center are dirty and always smell badly because of the garbage dump. To make things worse, it was the rainy season, so the village is very muddy.
Praise the Lord that we had the opportunity to share the gospel because only Jesus can bring smiles and hope to these children. The staff at the center helped a lot by cooking a big pot of very nice curry. We distributed a bag of curry and half a loaf of bread to each child."
The people responded positively, and the team was greatly encouraged by the response. Do continue to pray for the team as they travel from village to village ministering to the people who are in need, both physically and spiritually.
"My name is Sarem, and I am 17-years-old. I want to thank you for coming to visit me and the other children. Your visit made us very happy. Through the Bible story that you told us, we know more about Jesus. Thank you so much for the very delicious bread, the writing book and the Happy Children's Garden schedule. I always hear your voice on the program, but I never knew what you looked like. I am so happy to have met you; please come to visit us again! God bless you."
Prayer and Praise
Pray for TWR's program producer and the staff of Happy Children's Garden that God will guide them as they prepare the programs.
Pray for the children of Cambodia. Their physical needs are great, but so is their need to learn of Jesus, the only one who can save them from their sins.
Pray for successful outreach to the villages where these young listeners live.