China | Poverty in the New Year
February 5, 2010
Chinese New Year traditionally brings to mind festive gatherings with family, with parents and grandparents bestowing "hong bao" (red paper envelopes containing money) to the little ones to wish them well in the new year ahead. However, in HIV/AIDS-affected villages in China, poverty abounds. The thought of receiving hong pao is but a dream for many AIDS orphans.
TWR's Lighthouse project ministers to such HIV/AIDS-affected villages. Each individual "lighthouse" is an avenue for Christians and churches worldwide to be a light in the midst of darkness: Helping these affected people with their daily needs and children's school fees. Ministry workers make regular visits to offer prayer, care and counseling, so as to bring emotional and spiritual encouragement to the villagers.
The following recount is taken from a report from a Lighthouse ministry worker:
"We visited the home of Ke Zhong, one of the AIDS orphans we assist through our Lighthouse project. When I saw the conditions he was living in, my eyes began to tear and I felt the pain in my heart at the situation he faced on a daily basis.
Ke Zhong stays with his grandfather in a small house. There were two small rooms in the home, and the only thing of value in the house was a nine-inch black-and-white television sitting on and a table that was so old that the wood was rotting away.
Talking to his grandfather, we learned that in their poverty, Ke Zhong's parents – the old man's son and daughter-in-law – had sold their blood at a blood collection center. No-one knew at the time that these centers did not practice proper medical procedure. It was only later that Ke Zhong's parents were discovered to have contracted AIDS.
After a battle with the illness, both Ke Zhong's father and mother succumbed to the virus. For Ke Zhong's grandmother, the loss of both son and daughter-in-law was too much for her, and she too soon passed away.
This meant that within the span of a hundred days, both Ke Zhong and his grandfather had lost three beloved family members. Now, they only have one another. Through his grandfather's recount, Ke Zhong simply looked at us, crying wordlessly.
We also visited the home of Xiao Di, another AIDS orphan who lives with his grandparents.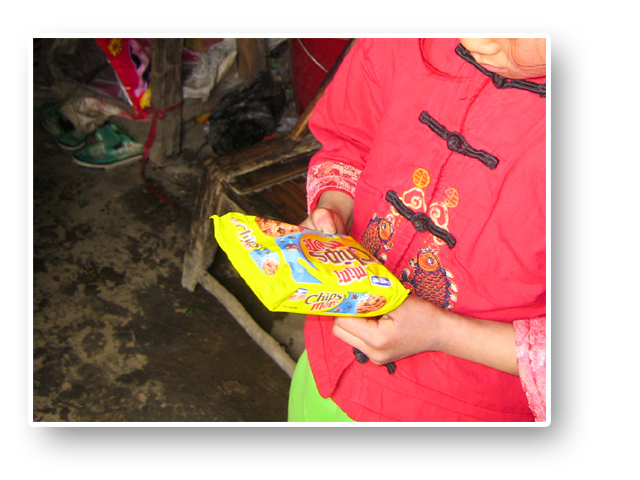 His grandmother is a Christian, and when Xiao Di introduced us to her, she took our hands in hers. Holding our hands tight, with tears in her eyes, she told us, 'If I did not believe in the Lord, I would have died a long time ago.'
Both her son and her daughter-in-law contracted AIDS through selling their blood. Both of them passed away within a few months of each other. She could barely handle the loss and the grief of such a large setback.
'We used to think that selling blood was a way out of our poverty, that we could have better days ahead.'
There are just too many such cases, and we cannot tell all of their stories one by one. After this round of visits, I was moved to love God more, and to have more love for others. We saw so many brothers- and sisters-in-Christ who need the love of the Lord, as well as spiritual and physical support. Some children have been left to grow up without anyone to take care of them; some are going through the sufferings of physical pain; while others have seen their family shrink as loved ones pass away.
I firmly believe that God will use His sons and daughters to bring love to these people." While the physical need is great, we also remember their spiritual poverty. Through these efforts on on-the-ground, TWR is presenting the gospel in non-threatening ways to these villages. Please prayerfully support the work that God is doing in their hearts!
Prayer and Praise
Pray for the ministry workers as they visit the Lighthouses, that they will be a conduit of God's blessing to those in need.
Pray for the people in the villages that they will continue to look towards the Lord to be their source of hope.