The Power of Prayer
January 17, 2012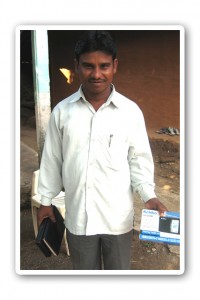 INDIA — "He clutched his chest, and his expression was filled with pain. Not knowing what to do, I prayed for him in Jesus' name. Within a few minutes, to our astonishment, the pain subsided," shared Vikram.
Vikram, a listener of TWR-India?s programs, was sharing an encounter he had that revealed the power of God through prayer.
He recounted another healing miracle that his family member received after he prayed to God.
"I recall an occasion when my mother was ill. As soon as I prayed for her, she regained her health," Vikram said. "My experience of His grace and mercy continually inspire me to share the love of God with everyone I come across!"
Looking back, Vikram said that he used to worship idols and was involved in rituals which his parents insisted he observe. His new found faith began when his friend introduced him to TWR-India's radio programs.
"I first heard about Jesus in February 2011 when I listened to your radio program in Oriya," he said. "There was something about the message that touched me. I believe it was a turning point in my life. Jesus was more real to me than the idols and rituals my family used to follow.
Ever since then, I have been listening to your programs regularly. I have learnt about the need to be born again. I have confessed my sins and repented, asking Him to come into my heart. Please pray that my parents will also come to accept Him into their hearts."
Last Christmas, Vikram, an engineering student, had the opportunity to visit TWR-India?s counseling center in Orissa. He has been constantly in touch with the center for prayer support. With the understanding of the significance of Christmas, he celebrated the birth of our Savior for the first time.
Continue to pray for Vikram and his family, and consider giving to TWR-India?s ministry so that many more may come to experience His love.