Ministering to Street Children
March 1, 2011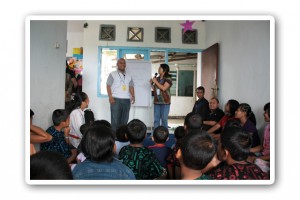 INDONESIA — The children's ministry team from TWR-Indonesia had the wonderful opportunity to meet up with the children of some of our listeners in East Java. They took the chance to share with them the love of our Savior.
Up to 40 street-children gathered at the home of Lissa, one of our LTWR listener coordinators. The children were engaged in a fun-filled session with songs, ice-breakers and story-telling. The children's faces shone with wide smiles when they sang the songs together. One of the song-lyrics went something like this: "What is your name? Where do you live? I do not care whether you are poor or rich but I know for sure that our Lord loves you." Despite being crowded together, the children were in high spirits.
Most of these children come from families with financial difficulties. The lack of comfort and basic privileges has molded these children to be "tougher" and they have matured faster than their peers.
The children's ministry at TWR-Indonesia had earlier identified the need to connect with these children in a face-to-face session. Lissa and other members in the ministry have prayed fervently for this fellowship to bear fruit. The team involved had also invested their energy and time in the arrangements.
During the interactive session, the children shared their dreams. Some wanted to become teachers, while others wanted to be politicians. There were also those who wanted to be singers or movie stars, etc. Some children were quiet as they seemed to have a question, "Can I have a future?"
Daisy, the coordinator of the children's ministry, shared some bible verses and encouraged them to focus on their studies to fulfil their dreams. She reminded them that Christ will be their faithful helper.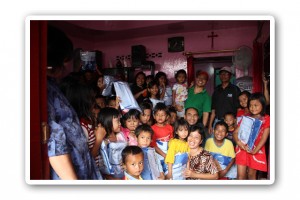 At the end of the session, the children received gifts such as school bags, T-shirts and milk. Through the interactive sessions, they had come to know the TWR-Indonesia team better. Through the building of relationships, TWR-Indonesia's children's ministry is constantly reaching out to and praying for the children and most importantly, to introduce to them the love of Christ.