Lasting Hope for Hurting Hearts
July 1, 2009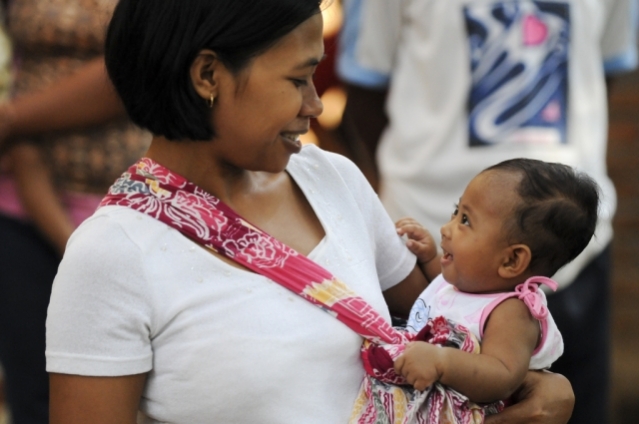 Women of Hope is a radio broadcast by Project Hannah, a ministry by women for women. It aims to reach out to women across the globe who are suffering, and who live in spiritual darkness. The Women of Hope programs are currently aired over 550 stations in 46 languages around the world, and have touched the hearts and lives of countless women. In Asia alone, the program is broadcast in 19 languages across 10 countries.
In Indonesia, many women are poor and illiterate, and are ill-informed about health and nutrition issues. Yet, they have to take on the roles of wife and mother from a young age, and often get disillusioned by the circumstances that surround them. When these women are ministered to, and their spiritual and emotional needs met through the airwaves, breakthroughs happen in their lives. Once they know who Jesus is and who they are in Christ, they learn that perfect and eternal love is available for them at all times and never lets them down.
'R' is a 30-year-old mother to three little kids. She lives in the urban area in North Sumatra, and her husband is a hired farm laborer who only earns enough to last the family for a week. As a result, 'R' had to work to supplement the family income. However, with her elementary school qualifications, she could only get a low-income job selling vegetables. Though exhausting, her work helped the family until one day, a friend cheated her by refusing to pay for the extra vegetables she ordered. In her rage, 'R' repeatedly hit her friend. She was arrested and sentenced to 7 months in prison. Her husband was so angry with her that he did not want to care for their three children. As a result, her youngest son had to stay in prison with her.
'R' turned on God in her anger and thought that He was not fair towards her and her innocent son. On the other hand, she also felt that she deserved God's "punishment" because she was not a Godly woman. One week later, a woman came to her prison cell and invited her to join a group of women for fellowship, where 'R' was introduced to the Women of Hope program on the radio. The first time she listened to the program, she received a verse from Matthew 21:22 which said, "If you believe, you will receive whatever you ask for in prayer."
The words touched her heart and she realized that she never really believed in God, and never really trusted Him. She began to pray and cry out loud to the Lord, expressing her anger, frustration and pain, until she felt a sense of peace. During her prayer she felt that the Lord was with her, that He heard her cry, and gave her peace which was like medicine for her emotional wounds.
Prayer and Praise
Praise the Lord for using the Women of Hope program to bless and transform the lives of women in remote places in Indonesia.
Pray for more workplaces in Indonesia to allow their women employees to listen to our radio program while working.