Spiritual and Physical Healing for Nepalese Women
July 1, 2009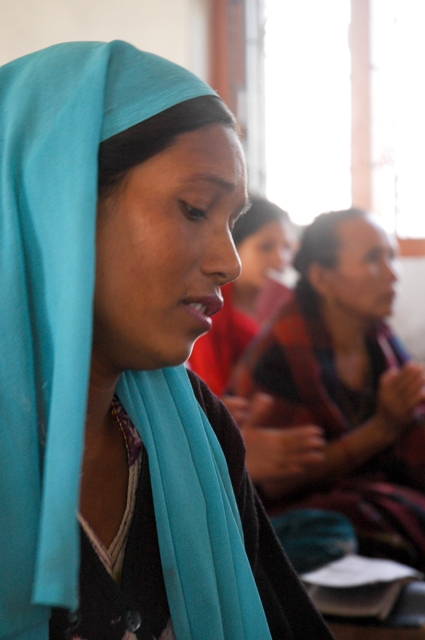 Most women in Nepal are underprivileged and uneducated, and are also often overworked. They are often viewed by society as a burden to their own families and are bound by the commonly practiced cultural tradition of arranged marriages.
A church-going Christian since her early childhood, 22-year-old 'P' was tricked into marrying a drug addict who often quarrelled with her and stole the valuables at home. He was jobless and his own parents did not want to help them out. 'P' was discouraged, disappointed, and lost all hope until a women's and children's coordinator from TWR in Nepal visited her, and listened as 'P' shared her private struggles. The coordinator introduced her to the Women of Hope program, and 'P' began listening to it on the radio. She found the hope and courage she thought she had lost, and is now renewed in Christ even though her husband is still a drug addict. She is trying to rebuild their lives, and even though he is still addicted to drugs, she says that she is happier now.
Nepal is also rife with religious superstitions and 19-year-old 'S' used to be a victim of these.
"I have been suffering from epilepsy since childhood and my family believed this to be a curse from the gods and tried to do everything to rid me of it. A friend told me about a living God, and how by praying to Him, I would be healed. I decided to visit a church one Saturday, but had a relapse. My family blamed my wanting to visit the church for the relapse. As a result, I never tried to visit a church again. However, I was encouraged when one day, I heard some health tips on epilepsy on the Women of Hope program on the radio, as well as the Bible story about the boy who was healed of epilepsy by Jesus. I called the program's producer and shared my struggles with her, and the TWR team prayed for me and encouraged me to join a church. I started going to church and I'm now healed of my disease. Though my eyes are still causing problems sometimes, I thank Jesus Christ who has healed me and the TWR team who has prayed over me."
We believe that listeners such as 'P' and 'S' are living testimonies to their peers who are still trapped in the caste system and the pressures of the cultural society. Through the Women of Hope program, we endeavour to support, encourage and equip them so that they not only know the one true Hope that does not disappoint, but also that they are not alone in the issues they face.

Prayer and Praise
Thank God for using the TWR-Nepal team as divine appointments not only on the airwaves but also on the ground.
Pray for the women in Nepal who may be persecuted by their families and/or friends for their newfound freedom in Christ.
Pray that these women's lives may instead be the voices of the Gospel and lead their community to Christ.